How to get into that Sovereign Sanctuary of the Gnosis?
"I understand that by taking the First Degree I will forge a link with the Ordo Templi Orientis that will endure so long as I shall live."[5] "It is not unusual that 50-60% don't hold up to the I°."[6] The very talented, therefore, jump directly into higher levels.[7] For example: Sharon Morton was made a provisional IX° during William Heidrick's I° initiation on 18th April 1978: Grady McMurtry was so drunk that he kept falling over. Heidrick was standing naked in the well. Morton asked McMurtry to make her a IX°, so that the ceremony could go on. He did the laying on of hands, and passed out cold. Five months later Heidrick took the Provisional IX° on 25th September 1978, II° on 30th April 1979, III° on 29th May 1979, IV° on 31st July 1980, V° on 3rd September 1983 and then directly jumped to Full IX° on 12th July 1985.

An anonymous source "tells me [Dave Evans] that he believes the OTO to be 'cooking the books' and the figure includes all members who have achieved progress into a higher grade in the organisation; thus a member who progresses through five successive grades over a period of time would be counted 5 times, thus distorting the figures."[8]

Andrea Bacuzzi was put into the statistics as VIII° only for the reason that such a degree actually can be included in the statistics, as she personally told me in April 1988.[9] She is also a IX°, indicating that the actual member figures are lower, since the figures are bolstered with at least one IX° as a lower level. As Ms Bacuzzi admits that in the Caliphate, often the high degrees came first, and the lower levels, if any, were granted in retrospect,[10] William Breeze's statement that he was the world's first man to have gone through all initiations from 0°-X°, is met with mixed feelings[11] considering that most of these rituals have only become accessible by way of a book sold publicy.[12] The missing grades (KEW, KRE,[13] VII°- XI°) were written by the Upper Management of the Caliphate.[14] This appears to be legally required according to the formula 'Where there is no ritual, there is no degree, there are no membership dues and fees.'

What do we know about the entire membership? James Graeb, on the occasion of William Breeze's election to Caliph, held in 1985, said that McMurtry "left a seven hundred member Ordo Templi Orientis with us folk, the IX°, having the voting rights in this organization."[15] The worldwide number on 29th February 1988: "Associates 170, Minerval 397, I° 238, II° 154, III° 97, IV° 35, V° 40, VI° 1, VII° 0, VIII° 1, IX° 13."[16] According to oral testimony of one of the English directors of the Caliphate, Clive Harper, in March 1993 there were 800 members worldwide.[17] For the same year, William Heidrick lists 2'288 members (statistics of February 1993).[18]

In 2000, Heidrick about AIDS- and suicide rates: "Recent member mortality: One known AID's [sic!] related death in February of this year. Six deaths in 1999: one believed suicide and one probably suicide. Rest ill­ness or not detailed (usually illness or accident in those cases). - Nine deaths in 1998: two suicide, one believed OD and the rest illness. - Seven deaths in 1997: three gunshot by others (one probably self defense), one AIDS and the rest illness. - Three deaths in 1996: One OD, remainder illness. - Three deaths in 1995: One prison murder (ADV associate), one suicide, one illness. - Four deaths in 1994: Two suicide, one accident, one illness. - Five deaths in 1993: Two AIDS, one probable suicide, remainder illness. - The suicides tend to be romantic frustration more often than economic or de­mentia on mystical lines simply. Earlier, more often economic. - AIDS deaths diminished for a while but resumed in the 90's. Most deaths have been from cancer or heart problems. Violent deaths seem to be more common than they were before the 90's."

Heidrick continues: "There have been relatively few murders over the years since I started recording in the late 1970's. Suicides peaked just in Regan's [sic] presidency, when wellfaire and medical assi­stance was cut back."

Heidrick recorded in his annual statistics for 2001: 3'895 members, of which 2'960 are initiated. ADVs[19] 200, Associates 735, Minervals 946, Ist Degrees 734, IInd Degrees 468, IIIrd Degrees 369, IVth Degrees 238, Vth Degrees 124, Higher Degrees 81. For 2003: 3'274 members in alleged 47 countries. More details are deduced from internal reports: In 2002 there were 89 high degree members. High degree = VI° and higher. Voting members of the Areopagus (IX° who also have the VIII°) in 1999: 26.

Since 2003, these figures have not been published in detail, as Heidrick, who had previously compiled them, is now completely committed to archival work. Until 2003, he was the only one responsible for transparency in statistic matters.



Renovation of the Statistics 2002-2008
Maybe it was John L. Crow, a friend of Allen H. Greenfield's (more about him below), who created in 2005 a new statistic which unfortunately does not contain a breakdown by country anymore but reveals percentage ratios.[20]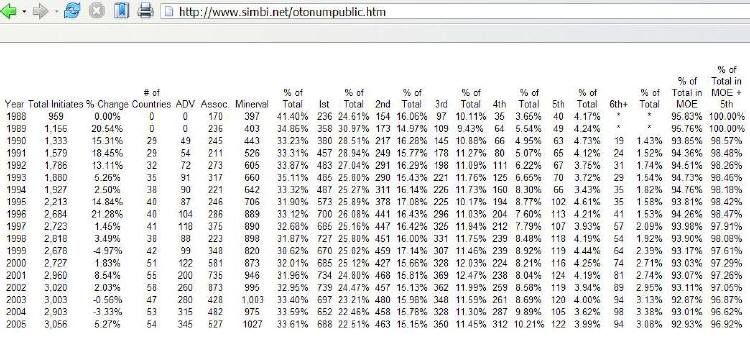 Meanwhile new offices have been introduced. There is an Ombudsman, a Public Information Officer, a Volunteer Coordinator. New guilds are built, for example Carpenters, there is the Translator's Guild, the Psychologist's Guild, the Prison Ministry, an Education Committee (for teachers only), and a Legal Professionals Guild (for lawyers).

Allen H. Greenfield, VII °, does not agree with the development and interpretation of the official figures. He blames William Breeze.[21]

"At the time I write this memorandum [April 2006], the world population is 6,477,451,000. OTO membership is, perhaps, 3000. The population of the United States, where OTO has enjoyed its greatest success to date is at least 298,444,062. […] OTO membership is, possibly, 2000 and not growing appreciably—at the highest levels, essentially not growing at all. There is an argument that goes that this is as it should be, that the membership needs to be 'few and secret' that it may 'rule' (ill-defined) 'the many and the known' - but in a world of 300 billions, an organization not appreciably larger than, say, the Socialist Workers Party and much smaller than, say, the followers of Rastafarianism is not just small, but hardly around at all. The world membership of OTO is only slightly larger than that of, say, The New York Society for Ethical Culture (http://www.adherents.com/Na/Na_470.html) of which it is tellingly said, 'The New York Society for Ethical Culture grew steadily until it reached its present membership of 1150 persons.' The notion that thirty five years after McMurtry initiated the revivification of OTO that this is becoming the 'chief organization for world reform' is an embarrassing absurdity. Add to this the likely fact (OTO upper management seems highly resistant to any comprehensive demographic research) that most OTO members seem to be marginalized, essentially powerless individuals, and the absurdity becomes a farrago of nonsense. In the post 9/11 world, it may even be said to be a dangerous nonsense."

Greenfield compares the O.T.O. with terrorism. "Islamist fanatics have had far more influence on world events than the OTO has had in all of its history since McMurtry's activation of his emergency powers. It is not competitive in either the world of ideas or the world of practical activities. It has become not so much an evil as an irrelevancy under its present upper management."

He speaks as an insider. "I had already served the OTO, the Ordo Templi Orientis in its current incarnation for nearly twenty years at the time of the attack, first as a private individual invited by the local body master to organize the Ecclesia Gnostica Catholica in the Southern United States, virtually from scratch, then as a Lodge Secretary, sole consecrated resident bishop for many hundreds of miles around, then as Lodge Master, and eventually, for the past decade, as Sovereign Grand Inspector General and Most Wise Sovereign of one of a handful of Chapters of Rose Croix in the world. When the individual elevated to the office of U.S. Grand Master General, Sabazius, chose to make his first VII Degree full tripartite member, I was the member he chose. I was for some time on good - even intimate - social terms with the Acting Outer Head of the Order, known as Hymenaeus Beta [Breeze]. I have been a guest in the homes of both of these men, as they have been guests in mine. It is thus not without hesitation that I have come to view their efforts at doing the particular Work uniquely charged to the OTO in its founding and most basic documents, as being a dismal, ill-conceived and ill-executed effort that has brought, under their leadership, the sort of near total failure that has characterized many marginalized societies with pretensions to occult knowledge. The decision to transform an eccentric and radical form of Freemasonic School in the very heart of the authentic esoteric tradition into a rather conventional religious society with an extremely narrow base and zero societal impact was a gradual one, and has had its critics at each level of its deviation from the core program of the society.

Greenfield lists the errors, which in his view have been committed in the Upper Management of the Caliphate.

(1) INCORPORATION - The move towards incorporation was something I always viewed as in conflict with the radical postulates of the essential program of OTO. Incorporation, it is true, does offer certain tax-related benefits and, more questionably, legal protections, but it makes the organization a part of the very social paradigm its program seeks to supplant. By placing itself within the System, a body tends to become absorbed into the system.[22] The OTO program, its central gnosis and conceptual framework are not amenable to social conformity. It might - it might - be able to be a 'legal entity' without gradually compromising itself into being a part of the very paradigm it postulates as that of an antequated 'Aeon' but this would require extraordinary and clear-headed management. It has not had that, and seems to consist largely of socially marginalized members attracted to the essential program which has been gradually gutted into a hollow shell of its intended realization.

(2) LITIGIOUSNESS - Without discussing the legal merits or tactical usefulness of any individual legal cases the OTO has involved itself in, by so involving itself repeatedly the upper management appears to have blurred the line between the essential purposes of the Order as described in the basic documents and its legalistic objectives. No efforts to control the flow of information, confidential or otherwise, has resulted in any true control—the Internet has more or less made a mockery of any such efforts, even supposing that the restriction of the flow of information is advantageous to the purposes of the Order, itself a debatable proposition. Further, the upper management has seemingly in the process of conducting itself as what appears to some—myself included—a litigious corporate entity, fallen into an excessively self-conscious body, unduly worried about potential legal actions against it, including concerns that are, in my view, inconsistent with the Order's history and any legal precedent. This, in turn, has weighed down the operative local bodies of the Order with a mass of bureaucratic rules, a mountain of paperwork, and even a presumptuous gutting of both the initiation rituals and the Order's primary public interface, The Gnostic Mass. As one rather ranking member observed to me, 'The OTO is now run by its lawyers.' This is utterly unacceptable in that it is completely incompatible with the numinous and progressive goals and methodology described in the basic documents.

[…]

(5) INITIATION - Most damning is the failure to initiate by the present upper management. A study of the statistical breakdown of degrees shows nearly flat growth, if it can be so called at all, in recent years, and virtually no growth at all in the highest degrees. If, as Crowley indicated, the evident purpose of the Order is to prepare individuals for initiation, the present management is a failure and should step down. Aleister Crowley stated that '…the really vital matter is the gradual progress towards disclosure of the Secret of the Ninth Degree'. If one discounts those acting ninths conferred by Major McMurtry prior to the mid 1980s, of the several thousand members who are or have been in OTO under the present Acting Frater Superior, only a tiny fraction of 1% have been so elevated on his watch. It is statistically nearly impossible to become a Ninth Degree in the OTO, and the grounds for conferring it are, at best, subject to close questioning and scrutiny."[23]

Allen Greenfield's graph: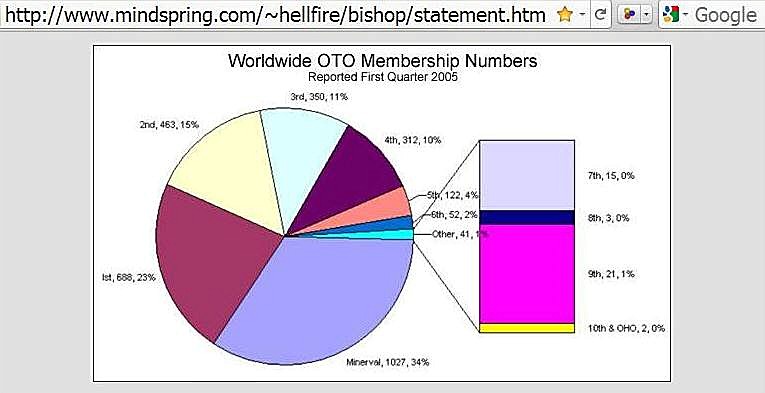 Censorship 2007
After the publication of his interpretation of the statistics Greenfield (shortly before having been involved in the expulsion of James Graeb)[24] is now also expelled[25] by an anonymous Inquisition committee without being consulted or having been given the challenge to defend[26] himself. It was regarded as a particular outrage that he had published his data, graphs and conclusions on the Internet "where Peter Koenig and everyone else could see it.[27]

Greenfield's friend and also a member, John Crow, suffers the same fate in March 2007.[28] So did the site members.cox.net/heru-ra-ha/, which was closed down in February.[29] And the prominent member Geraldo de Campo leaves the Order as well.

In November 2006, the headquarter issues new directives to its members: "The O.T.O. is a hierarchical religious Order that has a strong emphasis on military-style discipline in the upper degrees. Openly complaining about the Order instead of individually addressing whatever issues you have via the Path of Mediation may result in consequences you won't like."[30]

Strict censorship freezes the members of the Caliphate into a single-edged presentation mode: "Concerned about the ongoing criticism of USGL Officers and the precipitous increase in questions regarding the legitimacy of and justice coming out of the Order and its Grand Tribunal in the blogosphere, US Grand Lodge, O.T.O., has created a new blog post review committee. This committee has been given the job to approve O.T.O. member's posts to their blogs. A Grand Tribunal member, who asked to remain anonymous, described the new initiative as 'a way in which we can preempt any unfraternal or false information about the Order and its officers from entering the blogosphere and causing harm to the Order and its members.' When asked what standard the committee would use to filter the posts, the anonymous officer replied, 'anything that makes the Order or its leaders look bad or hurts anyone's feelings.'

The newly created committee is has been working with the IT Guild to create a system by which the O.T.O. members enter their blog account information and then uploads the post. The post goes into a queue to be reviewed by the members of the committee. Once approved, the post will then be automatically added to the Order member's blog. The system also allows committee members to retroactively delete and modify posts if something that was deemed harmless previously is later to be found unfraternal or false. The estimated timeframe for the post approval process is 30 to 45 days. When one IT Guild member was asked why the long time to review the posts he replied, 'look the committee members have lives; they are volunteers doing the best they can.'

The system is expected to be live by the next solstice and will be a voluntary for the USGL members until reviewed and approved by the Areopagus. This is expected to happen in April 2008. Then members will have 60 days to comply with the mandatory blog post submission requirement or face charges by the Grand Tribunal. When asked if this system was a violation of the Order member's free speech or Liber OZ rights, the anonymous Grand Tribunal member reminded everyone, 'the Order isn't a democracy you know.'"[31]

"… officers of U.S. Grand Lodge and their political allies, try to shut down discussions of various uncomfortable subjects. For example, USGL used to have a private mailing list known as 'Bodymasters' for the discussion of local body management issues, but this list was summarily closed, with the unconvincing explanation that it was 'no longer useful,' in the midst of an active discussion that USGL didn't want people to be having. Discussions on other mailing lists, as well as Web-based forums such as LiveJournal, have been curtailed in less drastic ways, such as USGL officers simply discouraging their continuation with vague but ostensibly noble claims that the discussion was 'inappropriate' in some way. This is pretty much all they can do, since, unlike the Chinese government, the O.T.O. does not control anyone's Internet connection."[32]



Greenfield's statistics showing a decline of the membership figures since 2000, lead to heated debate in the upper ranks of the Caliphate. Richard Kaczynski[33] produces a new calculation and interpretation on his blog. Since the Caliphate has put itself into the vicinity of academics and Freemasons, his analysis on 20 July 2008 reads as follows:

"Since being revived by Grady McMurtry, O.T.O. has initiated 13,000 individuals worldwide. Think about it. We're talking roughly a 35-year timeframe, the same amount of time between Crowley becoming Grand Master of the UK (1912) and the time he died (1947). I don't have a list of every O.T.O. member in Crowley's lifetime (it would be interesting to compile), but I'd be surprised if it topped 200. So, in Crowley's 35 years in O.T.O., around a couple hundred people were initiated. In the last 35 years, O.T.O. has initiated thirteen thousand. […]

[… ] the US Grand Treasurer General explained that USGL had tightened its criteria for counting 'current' members. Anyone who is more than 1 year in arrears nationally may be considered dues-lapsed (6 months for Minervals). [It had previoulsy been two years.] This new criterion leaves O.T.O.'s worldwide, active membership at 3,407 [source: O.T.O. IHQ GTG]. Combining the total number of individuals initiated and current membership (3407/13000), we arrive at 26% membership retention."

Kaczynski compares the Caliphate's figures to those of the Masons, using their recruitment guide "75 Ways to Attract and Retain New Members: A Handbook for the Leaders of Masonic Organizations".[34] He begins by quoting their data:
"'more than 80% of the members have not been present or active in their lodge for years' (Guide 2, p. 5)
After the first year, more than 80% of all new members fail to return to meetings and remain active in their lodge' (Guide 6, p. 9).
'in most lodges in North America, only about 15% are active' (Guide 2, p. 5)."


Kaczynski concludes that the retention rate ranges between 15 and 20%, locating them even closer to 15% because he considers that "more than" 80% quit their membership. Then he compares the O.T.O.'s findings to these figures:

"How does O.T.O.'s retention of 26% compare? Sure, it's a larger number than 15-20%, but is it appreciably larger or basically in the same ballpark? For this, we turn to the one-sample z-test for proportions. Assuming 20% is the norm, then O.T.O.'s 26% retention among 13,000 members falls 16.08 standard deviations above the mean. If we assume 15% is the norm, then 26% falls 29.04 standard deviations above the mean. Thus, a 26% retention rate is whoppingly larger than 15% or even 20%. (Technically speaking: If we assume the actual retention rate for fraternal organizations is 20%, then the odds are less than one in a million that the 26% reported by O.T.O. is due to nothing more than random variation."

Kaczynski rejects the idea that both organizations have the same retention rate. He concludes that the rate of the O.T.O.'s remaining members must be considerably higher, and he believes to see a cause in a combination of the following reasons:
"Since it's possible to become a Master Mason (III°) in 2-3 months, members may reach a psychological 'end of the line' sooner. (To reach the Master Magician III° degree of O.T.O. takes at least 1 year 9 months, though typically longer).
According to the aforementioned 75 Ways, two-thirds (66%) of those dropping out of Freemasonry indicate their reason being 'that Masonry was not what they expected.' No comparable statistic is available for O.T.O. [!], although my anecdotal experience [!] as a past master agrees with this: The overwhelming majority of people dropping out of O.T.O. do so because they discover it is not what they were looking for, and leave on amicable terms. What's interesting about those leaving Masonry is that those 2/3rds elaborate that 'they were not prepared for the initiation, it surprised them and they were uncomfortable. The initiation was very uncomfortable for many. They said that no one had told them what to expect and this made them uncomfortable and even embarrassed' (Guide 6, p. 5). Given that the overwhelming majority of those joining O.T.O. are interested in, and most likely have some experience in, ceremonial magick, it seems unlikely that O.T.O. members would cite 'being unprepared for the initiation' as their reason for leaving.
Unlike Masonry, O.T.O. includes both initiatic and ecclesiastical functions, which may offer members more incentive to remain active. Similarly, local O.T.O. bodies' offerings of rituals, classes and other events may provide more membership benefits than Masonic bodies, which are more oriented toward social and charitable activities. [In a survey about Masonry, the vast majority said they joined because they wanted more friends (85%) or connections (100%, Guide 2, p. 9); in addition, 92% said 'charitable efforts were important to their joining,' Guide 3 p. 7).]
Since it admits both men and women as members, O.T.O. members may experience less domestic pressures than members of an exclusive organization like Masonry. [In a study of prospective members, 85% of men said 'they would not join an organization that would not allow women as members,' Guide 2, p. 9.]

[…]

Hmm, I think I just wrote someone's Master's thesis for them. ;o)"[35]


The Caliphate redefines the concept of membership. Those who don't pay fees land on the "bad status report"-list. Irritating for some members, however, is that even those who leave the Order, as of August 2008 also end up on said "bad status report"-list. Further refinements are introduced:

"Ex-members on 'persona non grata' (PNG) status are not allowed to attend any official O.T.O. event within the U.S.--even public-access ones--unless specifically authorized to do so by Executive resolution. PNG status is automatic when a member is expelled (or has his or her membership dissolved by the OHO) or resigns from membership under any of the following conditions:

1. while duly suspended from membership for cause,
2. while prohibited from attending official O.T.O. events,
3. during the course of a Grand Lodge investigation involving potential disciplinary action against them, or
4. after making a serious threat of violence against any person.

Resolutions authorizing PNG to attend an event will be considered by the Executive on a case-by-case basis, and must be requested by a local body master or S.G.I.G. in a communication to the Grand Secretary General.

The GTG maintains a list of PNG, and can answer inquiries from LBMs and USGL representatives regarding PNG status of individuals.

LBMs have the power and authority to exclude or remove any non-member from any O.T.O. event."[36]


Something which remains as before: "The O.T.O. does not require, or track, the actual involvement of its initiates in local body activities. A member who pays his GL dues every year, but never shows up at any local body, suffers no censure and can go on in that way indefinitely. A serious organization would require much more of the membership than an annual dues payment, and would distinguish between active contribution and mere dues-paying."[37]



... and the Media
In 1946 Grady Louis McMurtry developed the strategy paper "Clear Crowley's Name Campaigne"[38] with suggestions of how to get rid of unpleasant critics. The goal left no questions open: "Policy: To clear Crowley's name of the slander in­stigated by bigoted journalists and propagated by the sensational press." Crowley was to be declared as "England's literary martyr" and "one of the first victims of Fascism." An agency in London was to be hired to conduct such a whitewashing campaign.

In 2007, that is 60 years later, one Frater Stilifo, Japanese member in Kanagawa,[39] in his daily life a journalist, a media consultant for state and politicians, transfers his professional experience to the O.T.O. by defining the media as a magical system. His paper at the "Sixth Biennial National Ordo Templi Orientis Conference" in Salem, Massachusetts, which appeared in print two years later, officially prepares the members for contact with the press, which is called a "goat" that needs to be fed. Stilifo imagines the media world regarding Crowley as being in the zeitgeist of the 1950ies and offers as a remedy the strategy developed by Edward R. Murrow:[40] to imagine an audience to whom you have to tell a story you have already internally summarized in twelve words. Thelemites and O.T.O. members are supposed to start practicing in case they sooner or later meet with the hungry press. Any spontaneity is rejected:

"... know the person who is interviewing you. Check out on the reporter's background, and get samples of his or her work ahead of time. Knowledge is the key. Have notes handy if remembering facts and figures are not your strong suit. Most important, have something to say that you have planned out in advance.""Maintain good posture. Don't fidget. Look your best. Act like someone who has a purpose in existence." "Dress accordingly. Look the person interviewing you in the eye. Eye contact is critical, just like in any other martial art." "Just to be safe, begin every interview with a statement along the lines of: 'I want to make it clear that I am not speaking on behalf of any other organization or person. The views I am expressing are solely my own.'."

In case of bad press there is a recipe:

1. "Ignore it and forget about it. Hope it goes away.
2. Write a letter to the author of the story.
3. Write a letter to the editor, specified as not for publication.
4. Write a letter to the editor, specified as for publication.
5. Do a counter-interview with another news organization.
6. Demand a public retraction.
7. Come out with your own story ahead of the negative one.
8. Take legal action and/or complaint to commercial sponsors and other relevant parties in an organized campaign/boycott."


In the legal context: "never use the 'L' word. Ever. Calling someone a 'liar' publicly has all sorts of legal ramifications. Unless you can prove in a court of law someone is a liar, you better not call them one publicly. You can say 'what they are saying is untrue and without merit,' or something similar. That works. But never, ever, call anyone a liar."[41]

In order to deal with domestic disputes the official magazin "Agape" offers complicated settlement options on the basis of organizational charts.[42]

In 2007, the Caliphate directs a "U.S. Grand Lodge Strategic Plan" to its members.

"Increase exposure of OTO and Thelema in alternative and mainstream press." "Increase effectiveness of conflict resolution." "Evaluate conflict resolution efforts through centralized statistical tracking." "Develop a form to implement anonymous reporting of conflict resolution problems and outcomes to the Supreme Grand Council." VISION: We will foster harmonious and constructive relationships with the academic, business, civil, and greater social communities within which we operate. Objective: Establish dialogue with academic community. Goal: Represent O.T.O. positively and provide accurate information to academic researchers. Strategy: Enlist members who are in the academic community (professors, researchers, graduate students) to liasion with academics studying occultism, Thelema, and OTO." "Establish relationship with broader charitable community. Goal: Take advantage of benefits available to 501(c)(3) organizations. Strategy: Research and identify organizations, programs, grantse may be able to participate."[43]

"'Let's face it,' Bill [Breeze] proffered, after an embarassed silence, 'the future of Thelema belongs to academics. We're the past.'"[44]

Accordingly Richard Kaczynski laments when Gerhard Mayer in "Magic, Ritual and Witchcraft" in his article "Magicians of the Twenty-First Century: An Attempt at Dimensioning the Magician's Personality",[45] writes in footnote 15: "For example, in Germany, it would be barely conceivable that an academic author such as Richard Kaczynski, who has also published numerous articles in well-respected medical journals, could give lectures to occult groups and writes papers for occult magazines under his real name."

Kaczynski: "In the context of Mayer's paper, this discussion leads to the insider-outsider debate in research (especially in religion), where some argue that scholarly works by "insiders" are somehow less legitimate or valid because of the supposed difficulty of achieving objectivity. However, the suggestion that an "outsider" is somehow more objective and accurate is a fallacy. [...] Insiders have the advantage of greater familiarity stemming from their vested interest. [...] It seems like the insider-outsider debate is more contentious when it comes to NRMs [New Religious Movements], and less so with established faiths. [...] Ultimately, the insider vs outsider distinction concerns different approaches with different strengths and weaknesses. This is true of any scientific methodology, and science relies on corroborating studies using complementary methodologies to arrive at the truth."[46]



Decoration
With the Seti-Project ears are not only trained on the stars,[47] but also on all too earthly sounds: In the song "Scarlet Woman" by Chakra a voice can be heard which is allegedly Kenneth Grant's (1924–2011). An excerpt from an unpublished manuscript by Dominik Tischleder: "What Is Occulture", Version 4.4.2010:

"Chakra: Scarlet Woman, 7" Vinyl, Marabo Records. A woman taking part in the recording noted down her memories for me (e–mail). Here some excerpts: 'Bob introduced me to Kenneth Grant one day, in the Prince Albert pub on Golders Green Road, where they used to meet often. This pub was often frequented by artists, musicians and actors, like Ian Hendry, who lived around the corner. (…) Writer John Symonds popped in occasionally too, which provoked stimulating conversation between us all. […] Ken Grant was a real gentleman, pleasant and charming, but there was much more to him. He possessed a real enigmatic quality, a mysterious sense of 'otherness'. He had a hypnotic air about him. […] Bob did some lithographs for inclusion in Ken's book and he also painted his portrait. Bob read Ken's books and there were many discussions about the occult and the artist Austin Osman Spare. Ken came to our house to listen to the songs Bob had written. So one day Ken wanted to know if Bob could do something with some acetates he had of Aleister Crowley, reciting his poems The Pentagram and La Gitana. He wanted to get them transferred onto vinyl. This would become the A-side of the single. The voice of 'the master' could be heard again, decades after his death. Kenneth asked if Bob could write a song for the B-side, based on Crowley's mistress, aka the Scarlet Woman. So Bob went away and penned the lyrics and then put them to music. He arranged a session in a small studio in Hayes, Middlesex. Bob sang, and played the guitar. Kenneth Grant, Janice Ayers and Mike Magee sang the chorus, an incantation. Lee Abbott, from the band Magna Carta, played bass. On drums was Martin Curtis, who felt a bit bewildered by it all. Kenneth Grant, Janice Ayers and Mike Magee sang the chorus, an incantation. […]"



In Italy there was the Label Musica Maxima Magnetica for a while, which published albums of members of the Caliphate (eg Alberto Moscato, Philippe Pissier, Mathieu Léon). In Texas the local women's lodge of the Caliphate conducted an a cappella choir singing thelemitic songs.

Rodney Orpheus, singer of the band The Cassandra Complex is a prominent musician within the Caliphate.

Most influential of them all is Psychic TV [PTV] whose connection to the O.T.O. shows for the first time with their piece "Looking for the O.T.O." performed live 1981. Later the song is published on "Mission Of Dead Souls", Fetish Records, 1981. Psychic TV's protagonist Genesis P-Orridge's background can be traced back to the British performance group Coum Transmission. P-Orridge is also an exponent of the gender question since the beginning of his surgical adapation of his wife's looks.

Breeze collaborated artistically with Angus Maclise (poet-percussionist and Velvet Underground co-founder), and played viola on PTV's "Trip Reset" and "Cold Blue Torch" as well as on Splinter Test's "Fractured Garden" and "Spatial Memory". Since 1997 Breeze is furthermore a member of Coil even accompanying them on tours in Europe. Breeze's collaborations also include the Hafler Trio and Current 93 (the singer of which, David Tibet/David M. Buntig, was a member of the Typhonian Order for a few years and from 2006 onwards he is a member of the Cabinet of the Caliphate. Breeze plays the viola in this band.) Tibet's main rôle in Breeze's Cabinet seems to consist mainly in publicly commenting every "Crowley-publication" [scan of the Caliphate's entry regarding the Cabinet later in this essay].[48] In 2006 Current 93 publish a CD on which not only Breeze plays, but which also features Marc Almond (former member of P-Orridge's order Thee Temple ov Psychick Youth) and Antony of Antony and the Johnsons, singing. On Baby Dee's CD "Safe Inside The Day", published in 2008, Breeze also plays the viola.