In 1973, Bowie was allegedly influenced by the bestselling book "The Spear of Destiny", cobbled together by Trevor Ravenscroft in 1972.
As the ideas behind his scribblings only enlarge the factual nonsense of Louis Pauwels' and Jacques Bergier's "The Morning of the Magicians" I shall try to diplomatically describe this rubbish in terms of content.
Ravenscroft admitted that there were no historical facts that had inspired him but that he derived his insights from private hallucinations. His book is a hardly suppressed adoration of the Hitler Youth and a show of admiration for Friedrich Nietzsche, Richard Wagner and other anti–Semites.
The work is spiced up with long quotations of "Mein Kampf" and attempts to equate an alleged Hitlerian Magick with Crowley's sexmagick. There are women in trance releasing ectoplasmatic beings through their vaginas, purportedly influencing the group around Hitler. Ravenscroft rambles at length about the Nazis' expeditions to Tibet, sent off by Heinrich Himmler's "Ahnenerbe" in search of the original Aryan.
Himmler is seen as an empty receptacle for extra–human forces, e.g. evil. Without any factual relevance, Ravenscroft trots out fantasies about the secret force Vril invented by Golden Dawn member Edward George Bulwer–Lytton for the 1871 sci–fi novel 'Vril' with the idea of a coming race destined to supplant the current humanity, and a so–called Thule Society.
While in reality the Thule Society was a purely political organisation, a lot of occultists and conspiracy aficionados prefer to conjure up a delirium of seemingly realistic occult connotations out of all this (e.g. the "mystics" in Bowie's 'The Supermen' are the leaders of Nazi Germany: "Where all were minds in uni–thought / Power weird by mystics taught / No pain, no joy, no power too great / Colossal strength to grasp a fate").

Where the book is not pseudo–anti–Hitler it seems to be vaguely pro–Rudolf Steiner. Maybe Bowie was inspired by the more than generous descriptions of Steiner's instructions in Ravenscroft's book? Steiner's way of yoga is in direct opposition to the eastern way.
Soon more on this.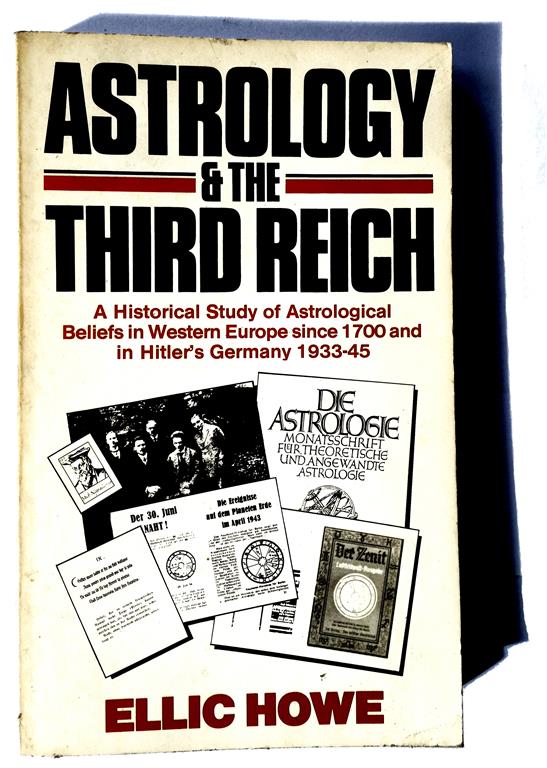 | | |
| --- | --- |
| | Bowie photo by Andrew Kent. |
Hermann Rauschning: "Hitler Speaks" (1940), "Hitler Spricht" (1940); Trevor–Roper: "Hitler's Secret Conversations" (1953).
Ellic Howe: "Astrology and the Third Reich", also as "Urania's Children" (1967).
Francis King: "Satan and Swastika, The Occult and the Nazi Party" (1976).


Ellic Howe once told me, the present author, over a fine dinner: "Never trust an Occultist."


Occultists in general consider themselves as 'subjects' — while non–occultists are 'objects' — à la Aleister Crowley's "the slaves shall serve". A lot of occultists view themselves as a superior being or a 'chosen one', while everyone else is as nothing. This sort of occultist lives in a world ruled by good and evil. Of course, many occultists might reach a level that is beyond that — but nevertheless the world below their abyss is only black and white, for them. Most occultists are trapped in such relationships; all are victims and transgressors, masters and slaves, Gods and sub–humans, and this is very much reflected in their choice of language and imagery they choose to use.




"Do I have to give your money back when I'm the Fuhrerling?"
Already in 1969, Bowie had said about England: "This country is crying out for a leader. God knows what it is looking for, but if it's not careful it's going to end up with a Hitler. This place is so ready to be picked up by anybody who has a strong enough personality to lead." [Bowie interviewed by Kate Simpson, in 'Music Now!', December 1969.]

"I was interested in the symbols of the Nazis. I think they are the most powerful set of symbols that have been invoked in terms of political history. The swastika. They took a Buddhist symbol, the Eastern symbol of the sun, and turned it around so it became a symbol of the dark.
That intrigued me about the Nazis. Who was the magnus [sic]? Who was the black magician?" [David Bowie, 'Arena' magazine, 1993.]
| | |
| --- | --- |
| At the right: Adolf Hitler's signature. | |
The 1976 track 'Station to Station' is a fine example of Bowie's use of occult symbolism. Not only does he refer to Aleister Crowley's book of pornographic poems (with its topics of pedophilia, bestiality and necrophilia) when he sings of "making sure White Stains", the 'Stations' of the title refer to the ten stations of a cabalistic diagram called the 'Tree of Life', where the transcendent aspect of God becomes manifest through ten emanations or spheres (called 'Sefiroth' in Hebrew) from the highest 'Kether' (the crown), to the lowest 'Malkuth' (the kingdom). Each of these Stations represents a thing in itself, connected by twenty–two paths, to each is attributed a different letter of the Hebrew alphabet. Each represents a planet, a sign of the zodiac, or one of the elements, together with a whole hierarchy of corresponding ideas.

Those who have the RyKo CD version of 'Station to Station' find Bowie's 1975 photo by Steve Schapiro on the back cover where he's sitting on the floor drawing this so–called Tree of Life with the 10 Sefirots [see below]. "Don't look at the carpet / I drew something awful on it", he sang in 'Breaking Glass' in 1977. Some years later, in March 2001 he admitted that this lyric "refers to both the cabbalistic drawings of the tree of life and the conjuring of spirits." ["Uncut Interviews David Bowie on Berlin" in 'UNCUT', March 2001.]
| | |
| --- | --- |
| As Schapiro tells it: "From the moment Bowie arrived, we seemed to hit it off. Incredibly intelligent, calm, and filled with ideas, he talked a lot about Alistair [sic] Crowley whose esoteric writings he was heavily into at the time. [Steve Schapiro: "David Bowie", Amazon 2015] | |
Bowie also opined that these Stations refer to the Stations of the Christian Cross, the fourteen landmarks on Christ's path to the crucifixion.


'Station to Station' reappeared on the live set list in 1990, and he sang it again in 1999 and in the Summer 2000.










Occultists who use the Cabbala create a reality transcendent by means of seeing Cabbalistic images all around them in the world — every thing and every incident is interpreted in correspondence with the Tree of Life, as somehow a direct dealing with God — and sometimes also through the use of sex. They travel the paths and spheres of the Tree; to travel in "one magical movement" from "Kether to Malkuth" "lost in my [magical?] circle" (as Bowie sings) equates with the descent of the transcendent God to the immanent physical level, thus making man one with the Divine. And vice–versa, going from "Malkuth to Kether" could signify employing sex, and rising during orgasm from the physical level to become God.
But which God was Bowie trying to reach? "Does my prayer fit in with your scheme of things?" he asked 'God' in the track 'Word on a Wing' on the same album, in 1976.
"I wrote the whole thing as a hymn. What better way can a man give thanks for achieving something that he had dreamed of achieving, than doing it with a hymn?" [Source: 'Melody Maker' 1976, see below.]
There is another less serious insight in Bowie's songs that involve a dialogue between Bowie and an 'Angel' (perhaps a sort of Mephistopheles?); there is an implication of some kind of Faustian pact, though this isn't immediately obvious. In 1999, Bowie posed as 'Mephistopheles' in photographs.

In 1976's 'Golden Years', Bowie sang "I'll stick with you baby for a thousand years, nothin's gonna touch you in these golden years" to an "Angel". This could be interpreted as the angel and Bowie assuring one another of their thousand year pact... though Angie Bowie remembers this track as a much more conventional love–song, written for her when Bowie was trying to save their failing relationship. Allegedly.
Maybe Bowie played with the Golden Dawn/Crowley concepts of the Holy Guardian Angel (HGA).
The concept is along and elaborate ascetic exercises (six months of constant devotional prayer) in order to contact a inner Angel who is believed to unite the physical world with the supernatural. It is not a Faustian pact in the mediæval sense, no signing your soul over in blood on a parchment to a devilish figure hovering at your shoulder. It is conversation with an inner spiritual Higher Self where a deal with the powers of the universe is perorated. This is what Crowleyans call "The Knowledge and Conversation of the Holy Guardian Angel" (the Angel in the 'Golden Years' song?).

For an occultist, it means there is no longer any distinction between the inner and outer. By Knowledge and Conversation with the Angel you also become master of (inner) demons (e.g. depending on the area of interest, the demon can be anything; a virus, a particular person or organisation, something to be resisted, a criticism, or yet another kind of religion.). The process seems to be reciprocal: Human and Angel become One and together forge a path to the divine.
UFOs and other Holy Guardian Angels can be comprehended/framed as a collective–definition/synonym for consciousness–broadening and/or altering phenomena. The quasi–religious Voices and Visions. Sound and Vision.

The sephirot/station Tiphareth (Tifereth) is the seat of the Holy Guardian Angel, the Sun (Son, i.e. the cognate Christ) and Osiris, the husband of Isis, the father of Horus and the brother whom Set murdered. Osiris is exemplary of the death–rebirth gods, of which Ziggy Stardust is a post–modern type, characteristic of the old Aeon when humanity's view of the universe was geocentric rather than heliocentric.

Was The Thin White Duke also meant to be the god Set who slays his brother Osiris / Ziggy Stardust?
"I had this more–than–passing interest in Egyptology [Golden Dawn and Aleister Crowley], mysticism and the cabala. At the time it seemed transparently obvious what the answer to life was. My whole life would be transformed into this bizarre nihilistic fantasy world of impending doom, mythological characters and imminent totalitarianism." [Timothy White: "The David Bowie Interview", 'Musician', May 1983.]
"The Key of Solomon the King (Clavicula Salomonis)".
Translated and edited from manuscripts in the British Museum by S. Liddell MacGregor Mathers (founder of the Golden Dawn).
Foreword by Richard Cavendish. London 1972.
Aleister Crowley was technical advisor to Dennis Wheatley's book "The Devil Rides Out" in 1934. Christopher Lee (1922–2015) suggested to the Hammer executives that his friend Wheatley's gothic fiction would be the ideal material for them. Richard Matheson ('I Am Legend', 'The Incredible Shrinking Man', several 'Twilight Zone' episodes ...) (1926–2013) provided the script and Terence Fisher's film was a vast improvement on the book.
| | |
| --- | --- |
| You need magical circles in order to manifest Angels or Demons. The magician stands in one circle and the Angel has to appear in the other. | |