Theodor Reuss and the Gnostic Churches

Chevalier Le Clément de St.-Marcq: "L'Eucharistie". About the Sacred Spermatophagy. Reuss said that this book of 1906 contained the ultimate secret of the OTO: the more sperm you eat, the more the manifestation of the Christ takes place within you: no women necessary for that.
Facsimile re-printed in: P.R. Koenig: "Der Grosse Theodor Reuss Reader", ARW, Muenchen 1997; Reuss called this pamphlet a revealing of the central secret of the OTO: only sperm contains the Logos: no women needed. Reuss wrote to Le Clément the following meaningful lines (we carefully reproduce his jargon): "I enclose two numbers of the "Oriflamme" which will show you that the Order of the Oriental Templars is in possession of that same knowledge contained in your "L'Eucharistie"". In effect, we find in the "Oriflamme", published in 1912, this, which clears the matter: "Our Order is in possession of the key which opens all the masonic and hermetic secrets: it is the doctrine of sexual magic, and this doctrine explains, leaving nothing in the dark, all masonic symbolism, every religious system". The quote is in chapter X (La question du satanisme) of René Guénon's "L'Erreur Spirite", originally published in 1923.

Role-model for Reuss'/Crowley's Gnostic Mass: The Tridentine Ritual.
Theodor Reuss and Aleister Crowley. Preface: Die Gnostische Messe.
The Gnostic Neo-Christians (1917).
The True Secret of Freemasonry and the Mystery of the Holy Mass (manuscript of approx.1917).


Theodor Reuss' invitation: Congress der Foederation der Universellen Freimaurer, 1920: Joanny Bricaud's proposal to make Reuss'/Crowley's Gnostic Mass the central religion of all 18° Freemasons.
Programme of Construction and Guiding Principles of the Gnostic Neo Christians called O.T.O. (printed 1920).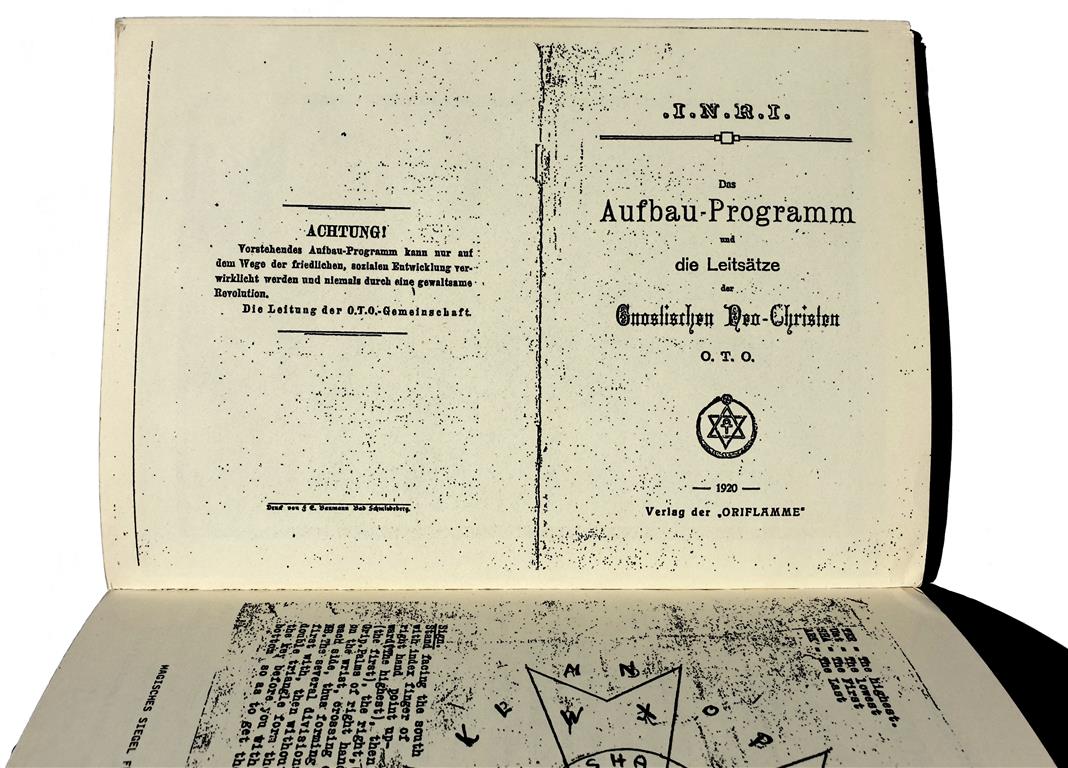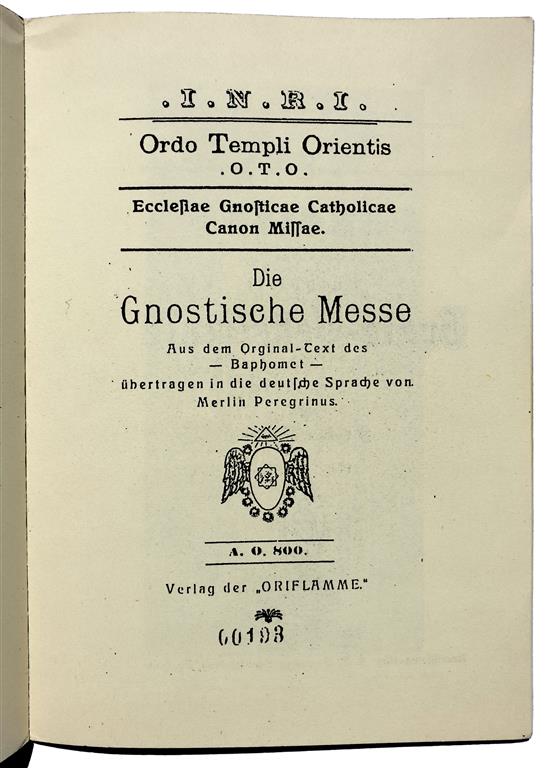 [From: 'Der Kleine Theodor Reuss Reader']



Ernst Tristan Kurtzahn, Mitglied von Reuss' O.T.O.: Die Gnostiker und die Unsichtbare Kirche [1925].
English translation: The Gnostics. — About the Gnostic Catholic Church, Androgyn + Gynandria, E.C.H. Peithmann, Peryt Shou, and the immissio membri virilis in vaginam in avoidance of the ejaculatio seminis.



Stephan Hoeller: Position Paper Concerning the Thelemite or Crowleyan Gnostic Churches. About the importance of magical succession without schisms; about valid and proper intention of consecrations, and that one Mass no Church doth make.
Study a version of Stephan Hoeller's Mass that was modified by the EGA's late Primate, Roger St. Victor Herard (Tau Charles).


Facsimile of the originals of above texts can be found in Ecclesia Gnostica Catholica.
Some of them were scanned and converted to text by Stephen L***. Homepage: Maps and Magick.

Aleister Crowley appointing William B. Crow Patriarch of the thelemic Gnostic Catholic Church.