The Wine-Bar, Hans Vogt

Thomas Munninger:


7. "Eduard Munninger ran his guest-house business mainly as a tourist café and wine-bar in 'high, low and off-season' from the early fifties until October 1964."


"Incidentally, in the fifties the mother of Peter Weibel (the well-known media theorist) worked at the Burg as a barmaid."[31]


Visitors to the wine-bar were presented with postcard-sized certificates:

"Herewith it is solemnly attested that on this day his honour Herr …… has, to the best of his recollection and of his own free will, and for the more certain continuation of celebrations, drunk … glasses of the fruit of the vine. Certified by this impressed seal and signature. Burg Krämpelstein, this … day of …, 19… Witness: …… Castle Steward and Cellarmaster [Munninger's signature]."


On January 25th 1957 Munninger informed the regional authorities of his new officers: deputy chairman, Adalbert Jungwirth; treasurer, Irmgard Munninger; custodian and chancellor, Johannes Vogt; deputy custodian, the police official Friedrich Konrath; auditors, Stefan Gritscher and Victor Steyrer, both "clerks."


"Hans Vogt had held an office within the Order (as 'Chancellor Johannes von der Erlau'),[32] which might well have been an honorary title; when they were cooking something up together my grandfather and he were—in my opinion—wasting their time on Faustian fictions."[33] Hans Vogt (1890-1979) became Grand Chancellor of the order on 26.11.1953, and was made "Burg-Chancellor" on 21.12.1953.[34] He is regarded as an originator of the modern sound-film system.[35] He also wrote On Spiders, On Angels, On the Master, The Erlau Zodiac, Farewell to a Mother, on Erlau Life and about The Invention of the Sound Film, etc., etc. In the Erlauer Geschichten ('Erlau Stories') for (?)1968 he spoke of spending Christmas 1944 in a chapel at Pyerawang with the Krämpelsteiners, who had managed to bring a harmonica along to the celebrations. In 1958, under his alias Johannes von der Erlau, he self-published a lavishly-illustrated study of Mysterious Krämpelstein. In this he described Munninger as "tall, stout and stocky, pleasure-loving, very definitely not a Franciscan ascetic, he seemed to enjoy anything that was unusual, outlandish or mysterious. He was indisputably highly educated, loved and could speak ancient tongues. Understandably, he was not exactly equal to the practical requirements of a normal life. He was an inveterate night-owl, and just like an owl slept away half the day in his turret chamber. Writing, entertaining, meditating, painting, thinking and teaching—avid souls from near and far sat at his feet—thus he lived his life as 'Medardus'. Yet constant battles with dull bureaucrats and overweening authorities was the general rule; his constant worry was that the Burg's iron coffers were never full enough. […] And what a piece of good luck for him: a charming lady, a newcomer to our particular sphere, married this man who was so easily distracted by the worlds of the intellect and spirit."[36]




There were still changes going on at the top: on January 6th 1960 the post of deputy custodian was taken over by headmaster A.E. Lattinger. On January 25th 1962 the leadership read as follows: Chairman, Eduard Munninger; Deputy Chairman, Adalbert Jungwirth; Treasurer, Rudolf Gastinger; Secretary, Emil Helm.

On January 8th 1963, the authorities were notified of the group's officers: Chairman and Custodian, Eduard Munninger; Treasurer and Deacon, Rudolf Gastinger; Secretary and Chancellor, Emil Helm; Accountant, Franz Bachmayr; Custodian and Accountant, Florian Schöfl.

Despite all these changes, Munninger's guest-house in the Burg, his "Mater Ariopa", was never granted any lasting success.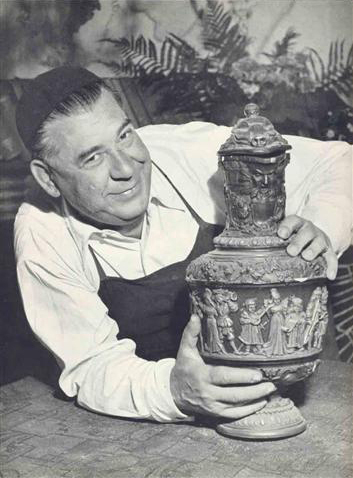 Eduard and Thomas Munninger - Eduard Munninger Archive (EMA)



Axel Springer: 1961

Thomas Munninger:

8. "From 1961 to 1964 my father was involved in a legal action against the BILD newspaper,[37] and against its publishers, the Axel-Springer-Verlag. The result back then was to cause a considerable sensation. Baseless accusations had been made against my father, while the lower ranks produced sensationalised tabloid attacks on him, with the result that the then still-published (Austrian) KRONENZEITUNG stood shoulder-to shoulder with the rest of the supposedly 'worthy' Austrian media against my father, and found a congenial partner in BILD. In the spring of 1964 BILD was FINED after a MAMMOTH TRIAL (total court-time per day: almost twelve hours!). My father's lawyer lodged an appeal to have the fine increased, the appeal being set for early 1965. Now my mother too was to be examined as chief witness, which finally had brought the whole 'wearisome trial' to a definite end."


Gustav Pscholka, president of the Austrian Society for Psychical Research [= Oesterreichische Gesellschaft für Psychische Forschung] and a Member of the Emergency Committee of the Scientific Union [= Mitglied des Notringes der Wissenschaftlichen Verbände], congratulated Munninger for his victory over the tabloid press, while Hans Bender[38] of the Institute for Borderland Psychology and Psychohygiene Ltd. [= Institut für Grenzgebiete der Psychologie und Psychohygiene e.V.], even brought his own case against a television programme produced by Springer's company, to defend the rights of those making efforts in spiritually oriented research.[39]


Metzger had now set up his own guest-house in Switzerland, the Gasthof Rose, and paraded round its garden in his Templar robes. If one compares Metzger's set-up with Munninger's group, their mise en scène seems almost interchangeable. Metzger presided as a Knight Templar over his Gasthof, where the crockery was decorated with a rosy cross, while the Rosicrucian Munninger ran his castle as a knightly steward and cellarmaster.

Karl Germer, who had led Crowley's Ordo Templi Orientis in the USA, died in October 1962; Metzger became self-styled worldwide leader of the O.T.O. in January 1963. In the same breath he called himself "rightful Hierophant of the Fraternitas Rosicruciana Antiqua for the Latin lands," and then proceeded to tar both the A.A.O.R.R.A.C. and the Lectorium Rosicrucianum with the same brush as "false orders" in issue 302 of his Oriflamme for April 1963. One thorn in Metzger's side may well have been that both these organisations had been busily recruiting and could point to gratifyingly high membership-numbers.[40] Metzger sent out circular letters against Eugen Grosche, Pansophia, and Walter Studinski as well. The idea of "Pansophic-Gnostic Rites" had found a home with Studinski (Heinrich Traenker's former student and long-term friend)[41] soon after Tränker's death in 1956. Now such rites were also being celebrated by Munninger at his Burg.[42]


In 1964 Munninger was still trying to turn the A.A.O.R.R.A.C. into a platform for the Spiritual Culture Union he had first mooted in 1948. To this end he made contact with Countess Zoë Wassilko-Serecki, general secretary of the Austrian Society for Parapsychology (Psychical Research).[43]

The "scattered remnants of the AAORRAC on an unsustainable scale"[44] duly fell into abeyance after Munninger's death in 1965.[45] He was survived by his wife, his son and the two daughters of his first marriage.

Thomas Munninger:

9. "On February 12th [1965] my father died at ten in the morning of a heart-attack (aged 64 years). […]
10. At that time I was studying law at Vienna University. In 1968 I continued the (AAORRAC) order […] Afterwards—having begun as a primary-school teacher—I became politically and culturally active in our local region, e.g. founding a fully independent municipal party in Esternberg (the IFVA—Independent Free Voter's Association) which got 8% of votes at the first attempt—and later running a cultural group (Kunst und Kultur auf Krämpelstein) from 1972-81."[46]
Any further business?


Two years after Munninger died, Albert Babor ("Albus"), former "Provincial Legate for Vienna" was thinking of continuing the A.A.O.R.R.A.C. and asked "the publishers of 'Die Burg' magazine" if he could take over "the AAORRAC Eastern Austria Province".[47] Irmgard Munninger provided the answer: "Order work on your part is out of the question at the moment, since the Order no longer exists in its original form."[48] But Babor wouldn't give up: "Isn't your son carrying on with the Order (as a Rosicrucian Order)? […] is the Order finished and no longer registered?" He followed with a twelve-point list of items he was hoping to purchase from Frau Munninger, including ritual robes, order sashes, gloves, altar-utensils, pentagrams, books, manuscripts, addresses…[49] Later Thomas Munninger commented: "It is true that I have been installed as Medardus's successor. The Order now exists only as a way for the members to keep in touch with each other by letter (or tape) for discussions […] but it is still thought that the AAORRAC could be revived in its old form at some future date." Babor's request to buy up Order paraphernalia was refused.[50] He did not get in touch again until 1984.


In 1970 Munninger's Pansophic-Gnostic Rites were printed in the Fraternitas Saturni's publications.[51] Later Friedrich-W. Haack reproduced them in the A.R.W. series.[52]


In 1981 Burg Krämpelstein was rented by the Kopfing Motorcycle Club, led by police-captain August Weidenholzer and a retired bishop called Zauner. Fifteen families (?!) apparently managed to live happily together in the tiny castle; they held parties and private archery-contests. But on the night of October 20th 1984, the Burg was burnt down almost to its foundations, allegedly as the result of a structural fault.[53] "The building's tower was completely burnt out, while only a part of the residential quarters—the 'Palas'—was left untouched. A 'building-blocks' campaign was set up—with the help of the Upper Austrian state [and the historical monuments office]—and allowed a restoration to be started, or at least a partial reconstruction."[54] The Burg was still the property of the Prince of Vichtenstein's son,[55] but it was left empty. As before, no electricity was laid on at the Burg, which soon became an "uninhabitable ruin" once more, as Oscar Schlag was able to confirm when he had visited the site.

But by 1988 the renovations were completed, and the eighty-odd members of the Kopfing Motorcycle Club could hold their parties there once again.



Albert Babor, Karl Plank: 1984


Thomas Munninger:
"Accounts differ: on the one hand that the order was 'continued' by 'Babor' in 1984 (on the grounds that the Burg was burnt down in this year—it has been rebuilt in the interim); and on the other that the AAORRAC was regarded as having been defunct since 1984 in official (societies registry) correspondence with my father."
[56]


In May Karl Plank ("Augustinus") who lived in Klosterneuberg near Vienna, received Irmgard Munninger's address from Albert Babor in Vienna. He told her he had a group of eight interested recruits.[57] Babor also wrote to Frau Munninger: "We'd really like to work an AAORRAC group officially, because the Order counts as the one true R.C. order for us. We know all about certain other associations, like AMORC, Lectorium Rosicrucianum, Wegener's society, Rosicruciana Antiqua, etc., but these aren't relevant. There are some possibilities in Heindel's Rosicrucian Fellowship, but they're an intolerant lot—" There followed a request for addresses and this parting shot: "Our leader or Führer is Brother Karl Plank, not Heger [?]."[58]

Frau Munninger told Plank about her hopes that "there may be some chance of a satisfactory collaboration. My son Thomas would be mainly responsible for matters, though he is very busy with his work as a teacher."[59] [It is apparent that a portion of the correspondence is missing at this point.] In July 1984 Babor wrote to Frau Munninger: "We were overjoyed to hear that you and your son Thomas are pleased to be involved and enthusiastic about the revival of our beloved AAORRAC Order." A deadline was set to meet in Esternberg before the end of the month,[60] and three weeks later Plank still believed "that everything will soon change for the better."[61] In fact it took them until October 1984 to meet in Vienna, and Frau Munninger did not attend. A letter from Plank dated October 20th is full of talk about photocopying, booklet-designs, and "advertising-psychology factors."[62]

Plank was a member of the A.M.O.R.C. city group in Vienna.[63] After Babor's death in 1984 (?) he took over the leadership of the newly-minted A.A.O.R.R.A.C., and initially obtained some material help from Thomas Munninger, who however soon distanced himself from Plank. Martin Erler of the ORA also refused any support.[64]

According to some A.M.O.R.C. members, Plank fell under suspicion of an unhealthy interest in the Order's funds. Further, "Herr Plank got hold of ritual items belonging to the Vienna city-group and parts of the AMORC correspondence-course to which he was not entitled. These events are legally documented in Vienna."[65] It has been alleged that Plank had links with Walter Englert's IO/O.T.O. in Frankfurt, and was not widely viewed as Munninger's real successor.







Still, Plank's group now started advertising (with addresses in Vienna and Klosterneuberg) in various esoteric magazines:[66] "The immortal Order of the Rosy Cross" the ads enthused, "reveals Mysticism and Pansophy"[67] and invited "Neophytes from all esoteric fields" to see for themselves the "wonders told of the Adepts of the original Rosicrucian Order at Burg Krämplestein."[68]







Those seekers who replied to the adverts were first directed to read Heinrich Tränker's book "Mystischer Glockenschlag"[69] ('The Mystical Chime') and then Rudolf Passian's "Licht und Schatten" ('Light and Shadows', Munich 1991). This latter comes as no surprise, since it is the only book to have ever seriously maintained that the A.A.O.R.R.A.C. had "credible historical foundations." Passian had already managed to convince himself that the Beatle Paul McCartney was influenced by the devil, because he had once worn a red academic gown and black gloves while being invested with an honorary doctorate. Passian also vigorously promoted a Fama Fraternitatis-type tale that the genuine writings of the notorious Anna Sprengel, original initiate of the Golden Dawn, were still preserved at Burg Krämpelstein in the possession of the A.A.O.R.R.A.C..[70] The Burg's present owner knows nothing of this.[71]


After so many re-foundings based on such dubious historical traditions, the latest A.A.O.R.R.A.C.'s Führer hoped that the interests of his aspirants "would tend not so much towards external forms as interior working,"[72] and referred to his order as "all-embracing Nuit."[73] Just as in Metzger's circles, in the Caliphate and most of the other secret societies mentioned here, they were opposed to critical and historical studies, and even referred to the "despicable moral conduct" of authors…

Plank died in late 1999 at Klosterneuberg; despite this, advertising for the A.A.O.R.R.A.C. continued to appear in the occult press, now with an address in Vienna. But any attempts to email their website (which went online in 2001) at http://www.silverchord.net/aaorrac/ resulted in the reply "Recipient address rejected: User unknown in virtual alias table".[74]




ENDNOTES