Eenie, Meenie, Miney, Mo ...
If this article appears to present a somewhat piecemeal study of a phenomenon, it is because of the contradictory and subjective characteristics marked so strongly throughout its sources. Taking a literary-critical approach, in chronological order, at least allows scope for themes to develop and gives documentary sources a chance to speak for themselves. This consistently problematical quality of the theme must be kept in mind if any useful conclusions are to be drawn. Of itself, the O.T.O. phenomenon has never produced any authoritative opinions, except as straightforward judgements after litigation.

[1]

Hence this article must be viewed as only a few pieces of a larger puzzle and intended as contributions to a fuller picture. Given the absence of source material, one has (for the most part) to forego any drawing of conclusions. However, one can still sketch a partial overview from what little information is available.

This is not an introduction to the O.T.O., but rather a reflection of many puzzle pieces within the context of its U.S. history.

[2]
Because Spencer Lewis (1883–1939) (leader of the A.M.O.R.C.) threatened Theodor Reuss (1855–1923) (founder of the O.T.O., in 1906) that A.M.O.R.C.

[3]

would stop paying its O.T.O. subscriptions if Aleister Crowley remained a member of the O.T.O.; and because Crowley was upset at Reuss granting (on 13th June, 1921

[4]

) Charles S. Jones

[5]

the highest U.S. degree (the X°), in the autumn of 1921, Reuss distanced himself from Crowley, turning towards the A.M.O.R.C. and to Arnoldo Krumm-Heller's Rosicrucian organisation, the Fraternitas Rosicruciana Antiqua (F.R.A.). After receiving his honorary diploma from Reuss, Lewis sent a telegram, dated 24th August, 1921, asking "What connection has Crowley with your organization." To which Reuss replied "Dissolved." In October, 1921, Reuss informed Lewis that he had cut the O.T.O. connection between Reuss and Crowley, adding that whatever Crowley might happen to do about it in the U.S.A. was now his own business and no longer any concern of the O.T.O.. On 9th November, 1921, Reuss wrote to Crowley: "the 'O.T.O.' is not in any way an annex or even in any way connected with the 'AA' [Crowley's Argenteum Astrum, A.·. A.·.] and [...] the Teachings of these Two independent Bodies must rigorously be kept separate and distinct." To which Crowley replied (on 23rd November, 1921) that it was his "will to be O.H.O. and Frater Superior of the Order and avail myself of your abdication — to proclaim myself as such." Several days later, on 27th November, 1921, Crowley noted in his diary: "I have proclaimed myself O.H.O. [Outer Head of the Order] Frater Superior of the Order of Oriental Templars."

[6]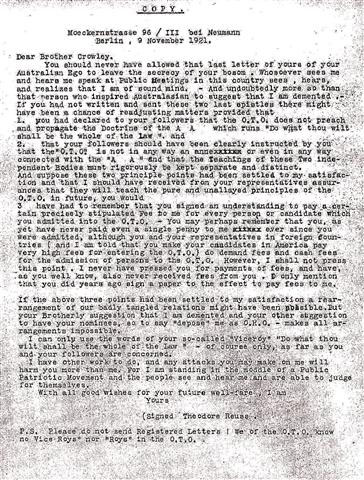 From then on, in Rosicrucian circles it was considered that "During the last two years of [Reuss's] life he was not active in teaching the Crowley doctrines and practices and regained the respect previously ac­corded to him in occult and fraternal circles."[7] Reuss died in October, 1923. His Will and papers were left in the care of his widow.

[8]

Heinrich Traenker (1880–1956) (in Germany) informed Jones of Reuss' death and gave some account of the last years of his organization in Switzerland and Germany, writing that "nearly no more followers of the O.T.O. are left." Jones, at first, offered to recognize Traenker as the new O.H.O., but Traenker declined.

[9]

When Jones wrote to Crowley, informing him of Reuss' death and offerering Crowley recognition as the new leader, Crowley accepted:

[10]

"I therefore accept the responsibility of this office and proceed to assume its Authority from this moment. As my first act I confirm the respective charters of yourself and [Traenker]."

[11]



Reuss continued his own original O.T.O. and removed all thelemic references from the rituals and his Order magazines. Crowley on the other hand ignored Reuss. After Reuss' death in 1923, neither the use of the logo nor the name is unique to any group.

From now on, the O.T.O. was split into parallel competing branches.

[12]

It is almost impossible to gain a complete picture of the many O.T.O. groups that sprang from Theodor Reuss's invention.

[13]
The Calf is in the Cow, not the Cow in the Calf
On 1st January, 1932, Jones (Achad became IX° and X° of the U.S., through Crowley, who also included him in his Will (dated the same day) as heir to the office of O.H.O.. This Will is the only one in which Crowley made use of the term 'O.H.O.' (Outer Head of the Order).

[14]

On 9th October, 1933, Crowley named Karl Germer as his "agent."

By 1933, quite a few Californians were expressing interest in Crowley's O.T.O., and so, on 14th September, 1934,

[15]

the Church of Thelema was legally incorporated there for the first time.

In June, 1934, Crowley wrote to a former friend of Traenker, a jeweller called Max R. Schneider (1887–1948), saying: "I advise strongly against starting O.T.O. until I am personally present. This time it has got to be done correctly right."

[16]

But, on 21st September, the following year, the second Agapé Lodge

[17]

was founded by Wilfred Talbot Smith (1885–1957) together with the aforementioned Schneider and Sarah Jane Wolfe (1875–1958), who had known Crowley at his Italian Abbey of Thelema. At the end of 1935, and on Crowley's behalf, Schneider made a vain attempt to take over Lewis' A.M.O.R.C. Among others associated with this second Agapé Lodge were Ray Burlingame (1893–1965) and his wife Mildred (1913–1981), Roy Leffingwell (1886–1952) and Friedrich Mellinger, Phyllis Wade (later McMurtry, then Seckler) (1917–2004).

[18]

From 1938, the membership included John (Jack) Parsons (1914–1952), Helen Parsons-Smith (1910–2003), Gabriel Montenegro (1907–1969)

[19]

and Louis Culling (1894–1973), amongst others. A correspondence was maintained with Friedrich Lekve (1904–1956) and Krumm-Heller (1879–1947). Crowley, frustrated by the fractiousness within the Californian group, had high hopes for Krumm-Heller

[20]

and, on 28th December, 1936, suggested he should "take over the work in California."

[21]

The attempt did not succeed.

Between 5th May and 18th July, 1941, Germer, was again named by Crowley as his "personal agent and representative in the United States of America" and "All persons in authority under me in connection with the A.·. A.·. and O.T.O. are to recognize him as their chief."

Crowley declined invitations (from the Smiths, Schneiders and Leffingwells) to settle down in the U.S.A.: by now he was too ill even to hold his own heroin syringe

[22]

and was living in reduced circumstances, wandering from one dingy boarding-house to another. On 18th July, 1941, Germer was appointed, by Crowley, as successor and Outer Head of the Order, in a document instructing O.T.O. members "to recognize him as their Chief" without limitation to any particular country or jurisdiction. On 26th December, 1941, Germer wrote to Jane Wolfe, saying "I feel lost in the grades, rituals, dignities, offices, rights and what not. Also I dislike the crowd of people who hang around and never get anywhere, who do nothing but talk, jabber, ask questions and would not understand your answers anyway."

On 14th March, 1942, Crowley wrote to Germer: "I shall appoint you my successor as O.H.O., but on special terms. It is quite clear to me that a complete change in the structure of the Order, and in its methods, is necessary. The Secret is the basis, and you must select the proper people. You can take outsiders; but everyone who has anything to do with us at all must make a formal renunciation of ideas denounced in AL 49

–56. Cap III. Then comes the New Social Order, on the lines laid down in the books LII, CI, CLXI and CXCIV (See Equinox III.1. pp 195

–246) and same in Eqx. III.2. — this volume is not under my hand at the moment. The broad base of public association is the Gnostic Mass."

[23]



In September 1942, Germer wrote to Jane Wolfe: "I have never, in an outer formality, been initiated either into the A.·. A.·. nor the O.T.O. for that matter.

On December 10th Crowley re-emphasized that Germer was his "agent and attorney," and that he acknowledged everything to which Germer put his signature.

On 16th February, 1943, Crowley wrote to Wolfe: "it would not be unfair to say that they [Agapé Lodge members] do not seem to be taking the Order seriously [...] there is absolutely no work being done and no attempt to do any work."

In March, 1943, Crowley wrote to Wolfe: "I am enlightened and horrified by what you say about the Californian crowd. What you tell me is truly abominable." Crowley described Wolfe's letters as "stupid gossip."

[24]



March 15, 1943. Germer sent a letter to all members saying that "the present situation has made it imperative to demand from every single one who claims to membership of the O.T.O. a clarification of his status and a re-affirmation of allegiance."

On 4th May, 1943, Crowley wrote to Wolfe: "I can see nothing but distraction, dispersion and waste, and colossal stupidity [...] It looks to me as if you were wasted out there – the whole crowd of you."



By 1943, the house owned by Jack Parsons and used by the O.T.O. was under FBI surveillance.

[25]

This was located in a rather wealthy residential area of Pasadena. Parsons attracted potential members by publishing in local newspapers for "bohemians, artists, musicians, atheists, anarchists, or other exotic types need apply for rooms – any mundane soul would unceremoniously rejected."

[26]



Crowley was fed up with Smith and employed a sly tactic to get rid of him. He declared Smith an avatar of a God,

[27]

and sent him into a Magical Retirement. Nevertheless, Smith stayed in Parsons' O.T.O. house and so ruined Crowley's plan.

In the summer of 1943 divorce was in the air. It appears that Helen Parsons-Smith was deliberately kept mostly out of the loop. Seemingly, she was not well-liked due to her connection to Wilfred T. Smith. In fact, she became pregnant by Smith whilst Parsons started a relationship with Smith's sister-in-law. However, in a diary entry dated 4th August, 1943, Crowley noted "fine lodge cooperation under Jack's leadership". Some weeks after Crowley defined Smith a God, he repudiated him. The finances were a "catastrophe."

[28]

Germer had named Schneider to the headship but when the latter had died, in April 1948, focus switched to Grady Louis McMurtry, who had entered the scene in 1941 via the Science Fiction Club people around Forrest J. Ackerman; where he met Parsons.
On 13th June, 1941, Grady Louis McMurtry (1918–1985) became a member. In 1943, McMurtry visited Germer in New York whilst on leave in Europe, having already stopped off that year in Scotland on his birthday (October 18th). Shortly afterwards, on 30th October, he travelled to England to meet Crowley (though not his part-time secretary Frederic Mellinger). In 1944 he returned to Great Britain to see Crowley, and also met Kenneth Grant (b. 1924) in London.[29] Crowley pinned down the length of their meetings in his diary: "I must not do such ass-acts."

[30]

McMurtry had been appointed as a Company Commander for the Normandy invasion (arriving there in June 1944) – he was in charge of transporting 500 lb. bombs!

[31]



On 22nd August, 1944, Crowley told McMurtry he was "quite the most serious and intelligent of the younger lot. This singles you out to be the proper man to take charge of affairs when the time is right." On 28th September, 1944, Crowley wrote to McMurtry: "I hope that you will prefer my plan for your career as my Fidus Achates, alter ego, Caliph, & so on." This intention has no related entry in Crowley's diary and neither Crowley's or Germer's writings contain any recognition of the term 'Caliphate', nor any explanation of the meaning of the title 'Caliph'.

[32]

McMurtry later claimed "I am Caliph because I am a sol­dier,"

[33]

alluding to a letter (dated 21st November, 1944) Crowley sent him in Belgium (where he was stationed at the time)

[34]

and which said: "Frater Saturnus [Germer] is of course the natural Caliph [...]. In any case, it can only be a stop-gap because of his age. I have to look for his successor […]. Your actual life, or 'blooding' is the sort of initiation which I regard as the first essential for a Caliph."

[35]

In the same letter to McMurtry, Crowley included a note at the very end which acknowledged the "Caliphate is not mine"; Crowley added "everyone can make him — or herself — of Presidential Timber."

On 10th December, 1944, McMurtry visited Crowley. In his diary, Crowley noted: "H.A. [McMurtry] dashed in!!! Whole bloody day enquiring, instructing, confirming k.t.l. ad nauseam oh so blasted tired. But very happy." On the 22nd: "Chess & more solid instruction in IX° than I ever gave before to any one!"

[36]



On 27th January, Crowley (having now moved to another boarding house) wrote to Louis Wilkinson (who wrote under the name Louis Marlow) about Grant, saying: "I am trying to get him to look after me and my work [...] Brief: a definite gift from the Gods [...] An ideal person to do all the hard work under your direction!"

[37]



A memorandum in Crowley's diary, dated 7th February, 1945, states: "Feb. 7. to Saturnus re financial po­licy of OTO (1) A.C.'s copyrights belong to OTO ... each new book, or set of essays, or what not, is a direct gain to OTO ... to keep him alive & at work, with secret help, must be the first charge on the Funds, whether labelled 'Publication Fund' or otherwise. (2) Value of [Kenneth] Grant: If I die or go to U.S.A., there must be a trained man to take care of English OTO (3) We must run OTO as Consti­tution etc. have laid down." On the same day (7th February, 1945), Crowley wrote to Grant (b. 1924): "after my death you would become invaluable to the OTO, as being able to carry on with everything at the tips of your fingers."[38]

Crowley, who had been living in relative poverty, was now in regular receipt of money; Germer and Schneider were supporting him to the tune of approximately $200 per month. McMurtry, on the other hand, wasn't so generous. On 1st December, 1943, Crowley paid him 20% interest on a loan of £50. Crowley was obliged to fend-off McMurtry by appointing him (on 11th April, 1945

[39]

) a "fully paid-up member of the IX°," further assigning McMurtry a 25% share in the profits of his book, 'Magick Without Tears'.

[40]



McMurtry was sent to investigate problems in California.

[41]

He reported on a plan to incorporate the Californian O.T.O. and mentioned his wish to open a lodge of his own, in San Francisco. Germer opined that "A.C. will doubtless write you about your plan to incorporate the O.T.O. — a thing that should have been done before — and your setting up a Lodge in S.F." Crowley then issued a special authorization to McMurtry, putting him in direct charge of all Californian O.T.O. operations and of reforming the local O.T.O. group, pursuant to his report of 25th January, 1946,

[42]

but subject to the approval of Germer — specifying the authorization was to be used only in an "emergency".

[43]

Crowley then expanded McMurtry's powers beyond California, appointing him (on 11th April, 1946) as his "personal representative in the United States of America, and his authority is to be considered as Ours, subject to the approval, revision, or veto," of Germer; Crowley signed this missive as O.H.O..

[44]



From 1945 onwards, Crowley's diary entries became almost illegible as his health deteriorates; exacerbated by his chronic drug habit. In May 1946, he underwent complicated and painful dental work and worried about going blind as a result of his many other health problems. He meticulously noted his attacks of diarrhoea, emphysema, and panic. For the sake of his health, Crowley's doctor advised him to stop smoking, but Crowley was still occasionally capable of some of his old pugnaciousness.

[45]



In June 1946, Germer visited Agapé Lodge. McMurtry often drove up to visit the Germers. Eventually Germer's mental state was often discussed among the other members because within days McMurtry received letters from Germer getting accused of things which McMurtry had thought had been resolved. Due to these letters McMurtry became increasingly disgusted with Sascha Germer's influence over her husband.

On 01st August, 1946, Germer wrote to McMurtry, saying: "I would like decisions be made and executed in your name."

On 2nd August, 1946, Karl and his wife (Sascha) visited Agapé Lodge. Eventually, Germer reported back to Crowley, expressing discontent with the meagre process of the lodge and about McMurtry's

"

special authority"

while Roy Leffingwell was still the lodge master. On 14

th August, a Special mee­ting took place there, at which the order that every contact with W.T. Smith would lead to immediate expulsion from the O.T.O. was again emphasised. McMurtry'

s so-called

'Caliphate'-letters were also shown around.

On 20th August, 1946, Parsons officially proclaimed his "formal resignation in full from the Ordo Templi Orientis, otherwise known as the O.T.O., to take effect as of this date."

[46]

Roy Leffingwell assumed control, although Crowley remained reluctant, he wrote to Germer, saying: "Roy is merely the Master of a Provincial Camp, he seems to be unaware of the exi­stence of such places as England, Canada, Germany, Denmark and so on. England in particular is beginning to look up very brightly."

[47]



On 17th June, 1947, Crowley complained to McMurtry: "It seems a long while since I heard from you. This is a great mistake: I shall tell you why in strict confidence. In the event of my death, Frater Saturnus [Germer] is of course my successor, but after his death the terrible burden of responsibility might very easily fall upon your shoulders." The crucial words here are 'might very easily'. The two documents Crowley issued granting authority to McMurtry are, in fact, of strictly limited application. On 15th July, 1947 — less than a month after the letter to McMurtry — Crowley wrote to Frederic Mellinger in very similar terms, saying: "I am very anxious indeed that you should keep in close touch with me, if only because I think it quite possible that after Frater Saturnus and myself have moved on into the next stage, you may find yourself saddled with the whole responsibility of carrying on the work of the Order."

[48]

Worried by Crowley's ill-health, Germer sailed for Antwerp (on 26th September, 1947), but was not able to set foot on English soil.

[49]

McMurtry, who could very easily have arranged Crowley's relocation to America, told Germer that he wasn't going to do it because his wife was pregnant and his job left him with no time to care for both an ailing Crowley and the mother-to-be.

[50]
Crowley died an undischarged bankrupt on 01st December, 1947. The Official Receiver appointed to administer his affairs accepted Germer's claim (on behalf of the O.T.O. as an unincorporated association

[51]

) to funds of £450, as property held in trust by Crowley for the O.T.O.. His Last Will and Testament (dated 09th June, 1947) made no mention of McMurtry and annulled all previous Wills, though it did name journalist John Symonds (1914–2006) and the novelist Louis Wilkinson (a.k.a. Louis Marlowe, 1881–1966) as Crowley's literary executors. Karl Germer and the painter Frieda Harris (1877–1962) became responsible for Crowley's personal belongings, while Germer took charge of the O.T.O..

After Crowley's death, Germer, Wilkinson and Harris questioned whether the Official Receiver really was the legal inheritor of Crowley's copyrights in consequence of Crowley's bankruptcy. A voluminous correspondence dragged on throughout the following years, though all participants were sure the Crown (of whom the Official Receiver was the legal representative) did not in fact possess the copyrights. Wilkinson wrote, on 01st January, 1948: "I am puzzled that the St. Leonard's solicitors did not inform Mr. Crowley that he could not make his Will with any effect until he was 'discharged'. He had told them that he was an undischarged bankrupt." They were worried about Gerald Yorke

[52]

, who might be planning to purchase all Crowley's remaining manuscripts at public auction

[53]

. In February 1948, they offered to pay the Official Receiver enough to cancel his debts. At first, the Official Receiver ignored Germer & Co's offer. But in June 1948, there was a response: "The Official Receiver has decided to make no claim to the moneys deposited with Lloyds Bank, Hastings [...]. The Official Receiver waived claim to all personal property of the late Mr. Crowley [...]. The only claim that he did make was on the books and manuscripts [...] for which he accepted £25 from my co-executor Mr. Germer."

[54]

So, Germer believed that "I hold the Copyrights for the late Aleister Crowley."

[55]



On 01st March, 1948, Germer informed McMurtry that he was revising the list of candidates for Crowley's proposed triumvirate to run the O.T.O.: it now consisted of McMurtry, Mellinger, Schneider and Jane Wolfe.

[56]

On 07th March, that year, Yorke clarified this matter for Germer, stating that only the two Reuss-appointed X°s (Traenker and Jones) had the final word on decisions affecting the O.T.O..
You can't have your cake and eat it
On 24th September, 1948, Germer wrote to Kenneth Grant, saying: "You would have known that I am not the O.H.O.: I do not know whether I would accept the job if it were pressed on me […] the pledge is connected with being recognised as a possessor of the IX° O.T.O.. It does not instate you or give you a Charter to work an O.T.O. Lodge." Germer also sent him a IX° certificate.

The probate of Crowley's will was granted by the Lewes and District Probate Registry (on 24th January, 1949) to Harris and Wilkinson, except for the purposes of property and effects (which included copyrights) in connection with the deceased's profession as an author.

On 21st March, 1950, Germer wrote to Symonds, saying: "I'm writing to ask you to let me have a clear and definite undertaking about the shipment of the remainder of Crowley's matter." And on 16th November wrote, "Two weeks ago the last shipment of Crowley's stuff arrived in New York, and I am now in possession of it almost three years after the man's death."

On 5th March, 1951, Grant (in London) received a Charter for the III° from Germer. This was co-signed by Mellinger. On 25th May, 1951, Germer wrote to Grant, saying: "In the first place, do not refer to me as your superior in the Order. That is only true in an extremely limited sense. What I appear to be in the O.T.O. has been thrust upon me, against my will. I will do what I can; but I shall refuse to make claims that go against my grain. I am strictly speaking the Grand Treasurer General of the O.T.O.. No more, no less!" Further correspondance followed:

On 18th January, 1952, Germer wrote to Grant, saying: "I never went through the O.T.O. grades; I don't know ritual, or the rituals [...]. I have been the mainstay and provider for the printing of books, etc. etc. during the last 25 years [...]. I cannot see that you need an authorisation, and I notice that you are clear on this point. [...]. I look to England as the leading country: you have culture; you have all the vast thelemic material. Germany would also be a suitable country [...]. The U.S.? Well! This is a spiritual desert [...] consider yourself [...] as on your own. I shall accept the steps you decide to take and shall abide by them. The only condition I should make is to keep me well informed."

On 03rd May, 1952Germer wrote to Grant, saying: "Nor am I against the O.T.O. system, or the system of Degrees. Only, paradoxically, I have very little interest in it. I wish someone could take the whole work, and the responsibility for the burden which A.C. laid on my incompetent shoulders, off me! [...]. If we want to get the O.T.O. properly going again, we need a competent leader, not only for England but for the world. [...]. I have often thought that you might well be chosen for the job [...]. There is no active Lodge, as such, in the U.S.A. of the O.T.O.."

On 10th April, 1952, McMurtry wrote to Germer, asking: "Does the O.T.O. still exist as an organization?"

On 20th November, 1952, Roy Leffingwell died and Jane Wolfe became his heiress. On 09th August, 1953, Germer wrote to Wolfe, saying: "If I authorize registering of the Order, it would have to be a real Order, in which duties come first; privileges a long way after. What was so objectionable in the handling of Agape Lodge to all serious people who reported to A.C. as also to authorities such as the FBI and the like,

[57]

was that it was just the opposite [...] none of them is of 'good standing', and have no rights or privileges [...]. When Grady came here, he considered himself as a co-owner, behaved in a strange manner to say the least, ordered Sascha away."

[58]



In the summer of 1953, W.T. Smith and Louis Culling decided to legally incorporate the Church of Thelema and proclaim Smith as O.H.O., using Crowley's will (dated 01st January, 1932) as their justification. Eventually, Germer expelled both of them from the O.T.O.,

[59]

closing the lodge on 07th September, 1953.

[60]

All groups that have since operated under this name are new foundations. Germer wrote to Jane Wolfe, saying that "I have deferred notifying the members of the former Agape Lodge that I have dissolved the Lodge altogether: I have come to the conviction that the name smells, politically and otherwise. If at any time it is resurrected, it should be under another name that has no past bad traditions."

[61]

McMurtry begged to differ, replying: I considered myself a member of the Order, but there was no organization to report to."

[62]

By the mid-1950s, when McMurtry announced he wanted to undertake O.T.O. initiations, Germer was unenthusiastic, he stated: "I consider all that to be the lower magick."

[63]



In the early Fifties, Grant established contact with the Fraternitas Saturni.

[64]

In 1955, he issued a Manifesto in which he called himself X° and O.H.O., naming Eugen Grosche (1888–1964) of the Fraternitas Saturni (and an old adversary of Germer's) as an associate.

[65]

This infuriated Germer, who took "violent exception" to such a reference.

[66]

Grosche exacerbated matters by publishing a shortened version of Grant's Manifesto in his own German magazine. This so angered Germer that (on 20th July, 1955) he wrote a "Note of Expulsion," excommunicating Grant and forbidding Grosche from publishing any Crowley writings.

[67]

Eventually, a certain Edward Noël Fitzgerald (1908–1958) was appointed as Germer's "personal representative" in matters concerning the O.T.O. for Great Britain.

[68]

1956, 11th January, Germer told Fitzgerald that the only person in England who has the Ninth Degree Paper "Emblems and Mode of Use" was Gerald Yorke and he was ordered "not to show it to Grant."

The Germers were going through a distinctly rocky patch: there was little or no money coming in and the couple had great difficulty finding a place to stay which would accept their pet dogs. Sascha Germer was very disappointed by the Thelemites, who had degenerated into what she characterised as a "Sexkult" — mainly because of "Phylis, [sic] a 22 year old whore."

[69]

The 65 year-old Sascha showed her husband only "bitterness, mockery and contempt,"

[70]

living apart from him until 1957, when Karl finally found them a new house. As a witness, Helen Parsons-Smith later stated in Court that Germer "had quite a phobia about earthquakes and the whole Western United States going into the sea from Nebraska on West."

[71]

He complained about his physical troubles and was given a 'remote diagnosis' by Gabriel Montenegro. Karl described his situation (to Sascha) as "Everything is dark for me,"seeing death as his only respite.
Marcelo Ramos Motta (1931–1987) joined the Fraternitas Rosicruciana Antiqua at Rio de Janeiro on 19th August, 1948. Whilst on holiday in Portugal he came across John Symonds's biography of Crowley, The Great Beast (London 1951), and instantly became a convinced Crowleyite. On the advice of his F.R.A. superior (Ernâni de Paula) he went to Germany (in 1953

[72]

) and met Parsival Krumm-Heller

[73]

(1925–2008), who in turn referred him to Karl Germer. In 1956, he visited Germer in Barstow, California, where he was then living (at Ero Shivonen's house.

[74]

) Motta, who was now quarrelling with Duval Ernâni de Paula (1907–2005), left the F.R.A..

[75]

In January 1957, accompanied by Germer and Jane Wolfe, Motta then went to visit Phyllis Seckler.

Between 1956 and 1961, Motta lived under the name Mark Hellington in Baton Rouge, Louisiana, where he occupied himself in writing around twenty film and TV scripts

[76]

plus a number of song lyrics.

[77]

But he confessed to Germer that "I nurse a secret and ridiculous ambition to be A.C.'s successor."

[78]



On 20th September, 1957, Germer wrote to Motta, saying: "O.T.O. — I do not in the least discourage, or disparage that you work to s[t?]ay on this subject, except that at the moment, and for a period of months to come, I would be in no position or mood, or frame of mind, to go deeply into the matter. First, the O.T.O. does not interest me too much; mine is only in the A.A. And, as I must have told you, A.C. wanted me to set up an entirely different system to convey to selected ones the central secret of the Sangraal."

[79]

Germer went on to concur with Crowley's judgement that: "The A.·. A.·. is for personal initiation; O.T.O. is for groups, & not nearly as important."

[80]



On 20th December, 1957, Motta wrote to Germer, saying: "The O.T.O. is no concern of mine."

On 31st January, 1958, Germer wrote to McMurtry, saying: "Sascha is a very high member of the Order,

[81]

though all you people are so spiritually blind, or poisoned, that you can't see this. As far as the Work, now, or in A.C.'s life, goes, she has done more for it, and is doing it, than all other so-called members combined."

On 12th February, 1958, McMurtry wrote to Germer, saying: "The idea of my starting my own nucleus is some­thing that I find very attractive," Germer encouraged him to do this in a previous letter. "I have not considered it recently, however, without presuming that such a project would be tied in closely with your work. Now that you have cut me loose from such considerations and cast me out 'on my own' in this con­nection, I shall proceed as best I can and as quickly as I can." And, on 24th February, he wrote to the Burlingames and Jean Shivonen.

On 29th March, 1958, Jane Wolfe died. On 9th November, Jean Shivonen told McMurtry she'd taken a long talk with the Burlingames and that moves were now afoot with the O.T.O.. They wanted to know whether there was anyone operating under the O.T.O. name in California and suggested McMurtry should "incorporate under the title and build up again."

[82]



On 20th March, 1959, Germer wrote to Motta about McMurtry: "Remember that burly knight in Berkeley, as you so beautifully labelled him sometime ago, how much promise has yet been plagued by a silly woman hostile to Thelema and AC and a son. How much should I expect from him and how deep has he sunk, unless he still pulls himself together. It is sure misery." He also claimed McMurtry was unreliable with money.
Don't meet troubles halfway


By the mid-1950s McMurtry was plainly intending to assert his independence of Germer's leadership, thus (from Germer's perspective) falling from grace. For this reason McMurtry and his allies always questioned Germer's authority. To this day they, and their successors, never miss an opportunity to cast doubts on Germer's mental state.

By 1959, McMurtry was holding meetings, behind Germer's back,

[83]

at Leffingwell's house in Lakewood. At least two of these are known to have happened (on 08th and 22nd of August). This small coterie of IX° members were discussing the future of their O.T.O., titled, "Thelema, Inc." — and especially who was going to be O.H.O.. Other IX°s, outside this clique (Frederic Mellinger, Marcelo Ramos Motta, Hermann J. Metzger, and Kenneth Grant), were not invited to attend their deliberations. These meetings might have been not entirely unrelated to the fact that the rival candidates for O.H.O. in America were both dead: Jones died on 24th February, 1950, and Smith, more recently, on 27th April, 1957. The McMurtry cabal seems to have ignored the fact that nothing in any O.T.O. constitution (as issued by Reuss or Crowley) entitled IX°s to vote for the O.H.O.; this was a privilege exclusive to X°s.

[84]

Nonetheless, several other non-X°s attended these meetings, including the widowed Mrs. Schneider-Shivonen from Barstow, Aleister Ataturk MacAlpine,

[85]

Helen Parsons-Smith and her boyfriend Gabriel Montenegro. Montenegro spoke against McMurtry as O.H.O., and that was, apparently, the end of that.

[86]



On 02nd December, 1959, Germer wrote to McMurtry, saying: "I have and had told you that 666 discussed with me to keep you for a prominent position in the Order. I was only too willing to accept this. What have you done in the last 12 years to justify and earn this position? And instead of a Plus, you've been a great Minus." This was the last letter Germer ever sent to McMurtry. Germer concluded that all the Thelemites in California (except the Burlingames) were undesirable.

[87]

From then onwards, and purely for motives of revenge, McMurtry's gang consistently labelled Karl and Sascha Germer as mad.

[88]



Montenegro was clearly under the impression that Roy Leffingwell was Crowley's representative for the U.S.A..

[89]

But Leffingwell had died on 20th November, 1952.

[90]

On 27th January, 1960, McMurtry wrote to Montenegro, saying: "I have never made a claim to being the legitimate successor to the Caliphate." On 21st November, 1960, Montenegro and his mistress (Helen Parsons-Smith

[91]

) commented to McMurtry on his, "fantastic claims" over the so-called 'Caliphate letters', they said: "there is nothing in it that could be construed in any way, then or henceforth, as intention of appointment to you, as his [Crowley's] spiritual and temporal heir as you infer [...] you failed to see the point." During the lawsuit McMurtry brought against Motta (in 1985 — see later chapters), Helen Parsons-Smith stated that Montenegro had phoned her on the same day he died (14th July 1969) and told her he now accepted McMurtry as chief; but her statement would be ruled as legally inadmissible — it being hearsay. Nevertheless, the lawyer considered this a "dying declaration."

[92]

Mrs. Smith's acquaintance, Martin P. Starr (see later chapters), maintained that since then she had "forgotten" this court-recorded statement and distanced herself from the 'Caliphate'.

[93]

Starr also claimed that Montenegro had a "low opinion of Grady McMurtry and his claims" to headship of the Order.

[94]