Auf die Artikel im englischen Magazin NUIT-ISIS (ab I;4, Oktober 1988) schreibt Loki vom kanadischen 'Caliphat', Nephthys Lodge, am 6. November 1989 auf deutsch:






"Du bist vielleicht Schweizer Staatsbürger, Deinem Wesen nach verkörperst Du die ärgsten Eigenschaften die Deutsche haben können:
1) Fanatisch und Rechthaberisch wie Hitler,
2) eingebildet und überheblich wie Göring,
3) paranoid wie Hess,
4) uninformiert über anderssprachige Länder wie Ribbentropp,
5) kombinierten Intellekt von Kaltenbrunner und Streicher.
Deine Artikel häten [sic] im "Stürmer" ganz gut einen Platz gefunden.
Dein Kampf gegen die Windmühlen ist uns allen langweilig geworden."









Annemarie Aeschbach vom Schweizer O.T.O. am 9.6.92:
"Ausser einigen Dokumenten - teils auch fragwürdiger Art - enthalten Ihre Aus­führungen derart viele falsche, unkorrekte, tendenziöse Angaben, dass es uns sinnlos erscheint, darauf einzugehen.
Wenn wir es als unangemessen erachten, Ihre Darstellungen zu berichtigen, heisst das keineswegs, dass wir sie als richtig anerkennen.
Die Verantwortung, die Sie mit diesen Veröffentlichungen auf sich laden, müssen Sie selber tragen
[...]
P.S. Allfällige Berichtigungen werden wir zu einem späteren Zeitpunkt in einer eigenen Veröffentlichung vornehmen."











Colin Henry Wilson (26 June 1931 - December 2013, writer on philosophy, sociology, music, literature, and the occult)



Joscelyn Godwin [historian]:
Mr Koenig "is a spiritual archaeologist ... dedicated to unearthing the most recondite and bizarre specimens, and then displaying them without praise or blame ... Mr. Koenig's investigation is of inestimable value to the impartial historian, and he deserves thanks for his persistence and his courage." [In: Theosophical History V;6 1995]











Friedrich-Wilhelm Haack. Beauftragter für Sekten- und Weltanschauungsfragen. Gründer der Arbeitsgemeinschaft für Religions- und Weltanschauungsfragen (A.R.W.).











Ellic Howe:
"I have spend most of yesterday reading your fantastically interesting work and am full of admiration for the quality of your research. Your character sketches of Metzger, Germer & Co are really marvellous and I was glad to read a sympathetic portrait of my old friend Oscar Schlag. It was very intelligent of you to realise that the post-Crowley Thelemites would be worth investigating and how well you succeeded [...] So from me a loud bravo!" [letter, 8th October 1989]





"I have no use for Mr W[illiam[.B[reeze]. who calls himself Hymenaeus Beta. [...] When I suggested to Gerald Yorke perhaps almost thirty years ago that he should deposit his collection at the Warburg I did not foresee that its custody would cause any particular problems and was thinking about serious scholars far into the 21st century." [letter, later in October 1989]










Albrecht Götz von Olenhusen:
"... gewinnt der Leser auch bei König tiefgründige Einblicke in die äussere und innere Struktur der magischen Geheimbünde und "Orden", der sektenartigen Kleingebilde mit ihren komplizierten Konstitutions-, Spaltungs- und Zerfallsbedingungen. [...] Ellic Howe ... hat Königs Studie in ihrer Entstehung gekannt ... 1989 plante er, sein leider nicht mehr geschriebenes Werk "The Secret Society Business" auch auf Materialien Königs zu stützen. [...] In der Tat spielen alle möglichen Varianten menschlicher Dummheit, Leichtgläubigkeit, starker Suggestibilität, physisch-psychischer Abhängigkeiten und latenter wie manifester Wahnvorstellungen hier ihre spezifische Rollen. Und die Ausnutzung der zahlungskräftigen Anhänger, gutgläubigen Verehrer von vermeintlichen Geheimnisträgern, sexualmagischen Möchtegern-Meistern und politischen und merkantilen Geschäftemachern mit ihren nationalen oder internationalen Markenzeichen und Gütesiegel spottet häufig jeder Beschreibung. Wer einige Zusammenhänge zwischen solchen gerade in Krisenzeiten immer wieder besonders lebendigen magischen Traditionen mit rechtsextremen, ariosophischen, antisemitischen und rassistischen Bewegungen, wer die Popularität esoterisch-okkultistischer Strömungen in neofaschistischen Gruppen und Grüppchen kennt, wird sich nicht immer nur an den oftmals geradezu lächerlichen Zwistigkeiten ihrer Protagonisten über richtige Rituale, rechtmässigen Nachfolge, an juristischen Konflikten über Nachlässe, Copyrights, Mitgliedsbeiträge und Tantiemen erheitern können. " [In: Quatuor Coronati Jahrbuch Nr. 31, Bayreuth 1994] (translation)




Hans Thomas Hakl:
"Kein Wissenschaftler, der sich mit modernen esoterischen Stroemungen befassen will, wird auf Königs Werke verzichten können. Nirgends sonst wird man eine solche Fülle von Originaldokumenten, Briefen, Chartas, Patenten und Ritualen sowie unbekannten Fotos zum O.T.O. und den O.T.O.-nahen Verbindungen finden ... Das Dictum bleibt: Königs Werke sind Pflichtlektüre für alle, die sich mit den esoterischen Gruppierungen der letzten hundert Jahre beschäftigen." [In: Under Cover 1995; Aries 20/97] translation. H.T. Hakl also provided a review on the REMIX and one on my Fraternitas Saturni books

More in Aries by Hakl: "Man mag Königs Arbeiten je nach Stimmungslage als Steinbruch, Minenfeld oder Füllhorn ansehen, ihr dokumentarischer Wert läßt sich nur schwer bestreiten. Oftmals ruft die Beschäftigung mit diesen Schriften allerdings dasselbe Gefühl hervor, das sich beim Zappen in einem hundertkanäligen Televisionsnetz einstellt. Das wäre beim bekennenden Fernsehserienfan P.R.König auch weiter nicht verwunderlich.
Ja sogar der Vergleich mit moderner Kunst - ich denke da vor allem an die Collagentechnik - dürfte so abwegig nicht sein.
Herr König hat sich ja um 1980 in Zürcher Künstlerkreisen aufgehalten und u.a. stimmlich und schauspielerisch betätigt. Und wenn es tatsächlich die Aufgabe modemer Kunst ist, den Zeitgeist widerzuspiegeln, so wirkt die « reale » Welt der magischen und okkultistischen Orden mindestens so von hundert verschiedenen Handlungssträngen und Personen durchzogen wie die hier zu besprechenden Werke.
Eines scheint mir jedenfalls sicher zu sein : Ein nach rein universitären und wissenschaftlichen Kriterien ausgerichtetes Opus wollte Herr König mit Bestimmtheit nicht verfassen. Allein sein Spieltrieb hätte ihm das verboten. Warum auch sollte er sich streng vorgegebenen Mustern und Konventionen unterwerfen, die er ja in seinem privaten Leben, wo es ihm nur immer möglich schien, zu brechen (ge)sucht (hat) ?"


And Hakl in his review of Oskar R. Schlag: "Von alten und neuen Mysterien: Die Lehren des A.", Bnd 1, Stäfa 1995: "Sicher werden im treuen Freundeskreis von ORS die König-lichen Veröffentlichungen nicht immer genehm gewesen sein, aber historische Bearbeitungen zeigen nun mal mehrere Seiten. Und es darf insbesondere nicht vergessen werden, daß ORS Herrn König überaus geschätzt haben muß, denn niemand sonst kam an so viel sorgsam gehütetes Material von ORS heran als gerade König, der Dokumente vielfach sogar mit nach Hause nehmen durfte. Beide hatten ja gemeinsam - um das Alphabet zwischen AA (Astrum Argentinum) und CC (Choronzon Club) aufzufüllen - noch die BB (Boys of Babalon) als magischen Club begründet. Und da ORS im Rahmen seiner häufigen Anrufe bei König dessen Telefon ebenso häufig besetzt fand, ersann er für den Viel- und Langtelefonierer den liebevoll-witzigen Ausdruck Telefonanist, was ja nicht gerade von Antipathie zeugt. Auch der Rezensent hätte Herrn König wahrscheinlich nicht so früh kennengelernt, wenn nicht ORS so intensiv dafür gesorgt hätte." [ARIES 20/97]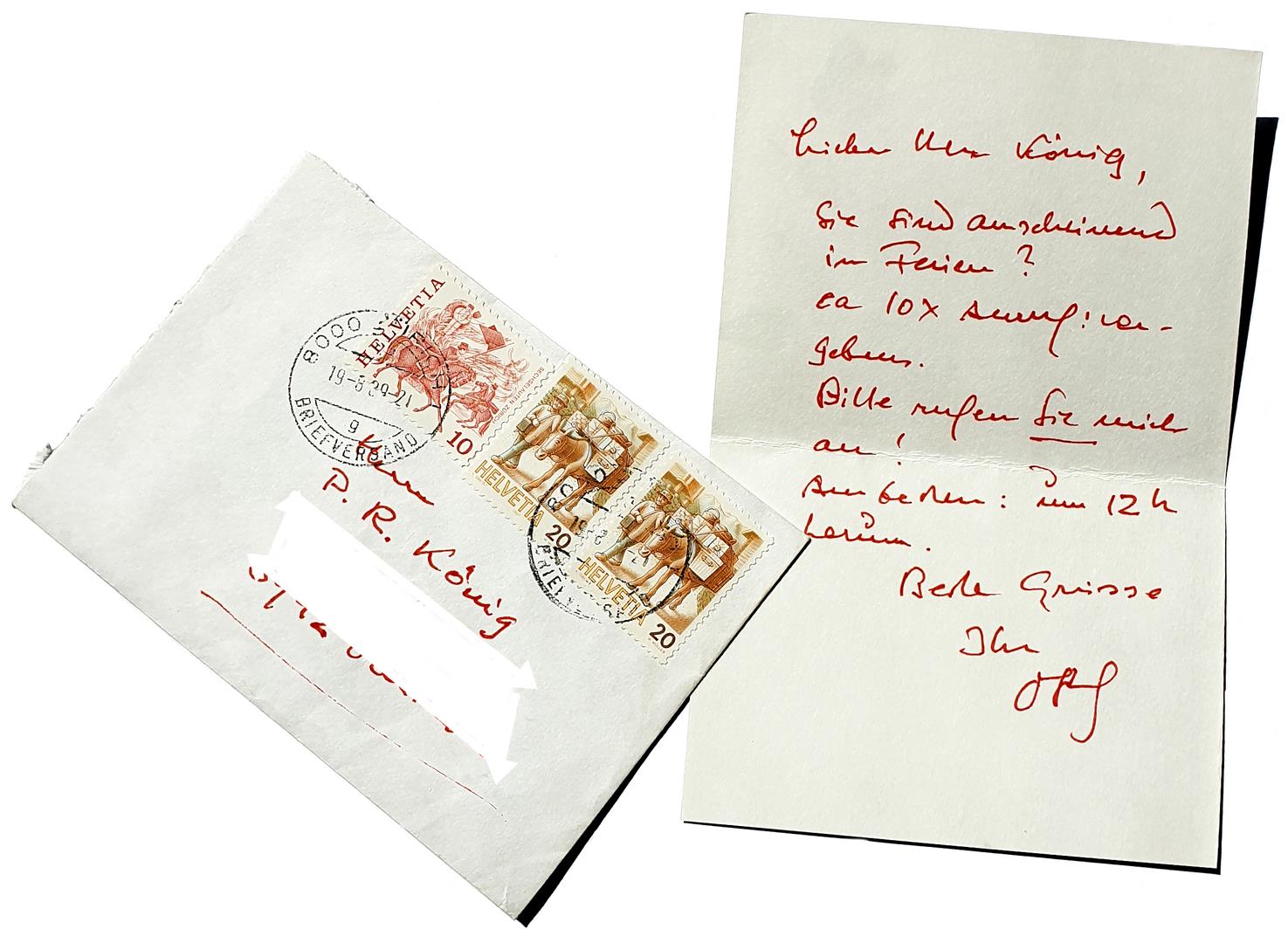 Oscar R. Schlag an P.R. König, 1989





Nochmals H.T. Hakl: "Bunte schillernde Farben beleben jedes Bild, auch das der Esoterik. Peter R. König ist ein solcher Farbenträger. Für ihn, der sich zwar als Postmoderner sieht, ist es trotzdem wichtig, das, was er als Wahrheit ansieht, völlig kompromisslos und in schärfster Weise aufzuzeigen. Die Schärfe wird manchmal, sogar in ihrem Manichäismus, zum Nachdenken oder Widerspruch anregen, einem gedeihlichen Zusammenleben dient sie allerdings wahrscheinlich nicht. Das ist nicht per se schlecht, denn wie schon Paracelsus sagt, die Dosis macht das Gift. Und wenn die Menge im gesamten Kontext stimmig ist, kann aus dem Gift eine Medizin werden." [Gnostika 50, 2012]










Harald Szeemann [international art curator]:
"Sie sind ja unerschöpflich." [letter November 1995] [Collage]





Wolfram Frietsch [Autor]:
"Dass Herr K. sich selber nicht nur eine Krone aufsetzt, wie es sein Name vermuten lässt, sondern sich auch selbst Gegenstand kritisch-publizistischen Interesses werden lässt (und wer seiner Kritiker ging ihm dabei voraus bzw. kann ihm dahin folgen?), können auch als mildernde Umstände wahrgenommen werden. In diesem Sinne wird die Zeit zeigen, inwieweit Herr König wesentliches übersehen, vergessen oder unberücksichtigt liess; oder ob er doch ein 'historisches Aufklärungswerk' geschrieben hat, welches kontrovers zu diskutieren ist." [in Manfred Ach: Under Cover, München 1995]










John Symonds, letter dated 12th February 1997, excerpts.





Thomas Lueckewerth:
"... es ist in erster Linie König zu verdanken, dass der O.T.O. überhaupt ernsthaft öffentlich diskutiert werden kann. Zumindest im deutschsprachigen Raum wäre ohne seine als grundlegend anzusehenden Schriften die Auseinandersetzung mit dem O.T.O. gar nicht mehr denkbar." [In: Sigill 15, October 1997] (translation)











Otto Buchinger [in the context of Arnoldo Krumm-Heller's and Herbert Fritsche's biography]:
"Dankbar und nach fast den gesamten Nachtschlaf raubenden Lektüre bin ich erstaunt über die Fülle schier überbordender tiefer Information - nicht allein nur die schillernde, sowohl hochbegabte, als auch theatralisch-hochstapelnde Persönlichkeit KRUMM-HELLER, der auch mir über meines Vaters und Fritsches Berichte i.S. des Wortes FRAG-WüRDIG erschien!" [letter 4th May 1995] [Collage]



John Patrick Deveney [historian]:
"You are doing great work and, unlike a lot of others are not just reciting the old stories over and over." [e-mail July 1997]



Erik Davis [culture critic]:
"You have clearly done your homework." [e-mail November 1998]









Massimo Introvigne and Michael Paul Bertiaux.




Richard Metzger [disinformation]:
"I encourage you to continue with your research/site. It's an extremely valuable contribution to magickal scholarship (perhaps the single best on the WWW)." [e-mail October 1997]



Michael D. Eschner [Thelema-Orden des Argentum Astrum ]:
Königs "Materialien zeigen ein ganz anderes Bild dieser Gruppierungen, als diese es von sich darstellen wollen. Die geheimnisvollen Oberen zeigen sich hier oft genug als intrigante Kleinbürger mit mehr Interesse an materiellen Vorteilen als an Gnosis oder okkulter Weisheit. Das Geheimnis der Geheimgesellschaften ist eben oft genug nur das allergrösste Geheimnis, das heiligste Geheimnis, das nie bekannt werden darf: die Leere im Innern der Lehre!" [In: AHA 6/97] (translation)



William Heidrick [co-founder of the 'Caliphate']:
Koenig has a "reading comprehension level somewhere below the anthropodieae. Get his books for the pictures and facsimiles, but don't worry if you can't read German. His text is not on a par with "Occult Theocrasy". Please ask someone else for his publisher's address (legal reasons)." [e-mail August 1995]
Heidrick's reaction to Joscelyn Godwin's comment above: Koenig "does publish valuable originals, whatever he may construct around them and whatever legal standing he may have to make money off other people's property. For "courage", read "hutspa". Vieleicht Fr. Shlemozzle?" [e-mail dated 25 August 1996]
"I fear that Koenig simply forms an opinion, often deliberately in opposition to something he dislikes for personal reasons, and then attempts to present that opinion as the conclusion from evidence that either doesn't relate to it at all or may be created from nothing. He once asked me to critique his writing, but I confessed inability to take the time to correct practically every sentence. :-)" [e-mail dated 24 February 97, to PLZ]
"Leaking private information to Koenig is grounds for Order-wide bad report, depending on the seriousness of the matter." [e-mail August 1999 to a member]



William Breeze [Caliph of the 'Caliphate' and self-styled leader of 'the' O.T.O.]:
"As for [...] the historiographic efforts of Koenig, these are a matter of free speech, except where copyrighted material is quote [sic] without permission; I have not gone through Koenig's articles to ascertain where this has occurred, but it is likely that he has done so. [...] Koenig is internationally notorious as an infringer of copyrights, and his historical material sadly ruins what might otherwise be solid research by being hopelessly biased and prejudicial, particularly against us, whom he refers to as the "Caliphate O.T.O." [...] I should add that involving P.R. Koenig in Switzerland in a matter that does not concern him directly will be taken by us as a hostile action, as he will undoubtedly use this letter, and all subsequent legal communications, for his own peculiar and usually incomprehensible propaganda purposes." [17th February 1997 to Paolo Marcucci who hosted a XI° website and which Breeze had closed down]. And one day before, on 16th February to Marcelo Santos: "P-R Koenig is an idiot."







Phyllis Seckler / Meral [ex-wife of Grady Louis McMurtry]:
"I hope your work proceeds smoothly and becomes a major research paper of interest to all those in Thelema." [letter 10th June 1987]











Helen Parsons Smith [of Jack Parsons fame]:
"I am appaalled [sic] by the apparent misinformation and distortion of 'facts' which you have assembled in your research (?) of this subject.
You would do yourself a great favor merely to just file this project for history to justify and assert its place in the minds of intelligent and educated individuals. Someone has been leading you astry [sic], that is for sure." [letter January 1990]











Christian Bouchet [ex-member of the 'Caliphate' O.T.O. in France and right-winged politician]: "... les articles [...] d'un certain Konig, sous-homme plein de ressentiment qui consacre ses loisirs à baver de petites inepties et des contre-vérités aussi médiocres que lui-même sur Notre Père Aleister Crowley ..." ["Thélèma, Bulletin du Mouvement de Thélème en France (Ordo Templi Orientis et Astrum Argentinum)", VIII;26, Château Thébaud, 1991]










Gerald Suster [2 August 1951 – 3 February 2001, novelist]:
"You have now demonstrated that the issue is, at the least, rather more complex than I initially supposed." [letter June 1989]










Timothy d'Arch Smith [book expert]:
"It is excellent at last to be able to find one's way through the maze." [letter 4th October 1992] [Collage]



Jean-François Mayer (Swiss government] about O.T.O. Rituals and Sexmagick:
"Un tout grand merci! Le livre m'est en effet arrivé hier déjà! Quelle belle présentation, très soignée! Je suis ravi d'avoir dans ma bibliothèque de volume qui va certainement devenir un ouvrage de référence sur ces sujets." [e-mail October 1999]



Ben Fernee [book seller] about O.T.O. Rituals and Sexmagick:
"Students of freemasonry may find this an intruiging, and no doubt controversial, working of masonic traditions. Wiccans will find striking analogies to the Gardnerian & Alexandrian initiation rituals which may throw light upon their own mysteries. All interested in western tantra, sex magick and magick & paganism will find this a welcome opportunity to understand one of the most important and controversial currents of 20th Century Occultism! Of course this book will be of particular interest to all students of Crowley's occultism (N.B. those working these rituals may choose not to read certain sections, lest the psychodrama of forthcoming initiations be compromised)." [review October 1999]



Michael Staley [Typhonian O.T.O.] about O.T.O. Rituals and Sexmagick:
"Very impressive" [e-mail October 1999]










Kenneth Anger [film maker and member of the 'Caliphate'] about O.T.O. Rituals and Sexmagick:
"I am deeply grateful for the copy of the excellent book" [letters dated 13th and 29th September 1999]



Michael Aquino [Temple of Set] about O.T.O. Rituals and Sexmagick:
"It's beautifully done, and its contents are as exhaustive and definitive as any scholar could possibly wish. Congratulations - and thank you again for this copy! As I read through the people/organizational history portions, I was struck by how much effort and emotion so many people over the years have put into the O.T.O. I can see Crowley adding it to his repertoire as one more device for personal advertisement along the way, but obviously several other people got, and continue to get, fixated by what is to me a fairly straightforward case of "Freemasonry plus sex". Of course I *will* grant that Freemasonry *with* sex is probably more fun than F *without* S! :-) The ritual section is obviously much more complete and detailed than King's book, and you've blazed new publishing trails here. Reprints of the _Equinox_ have opened up the A.·. A.·. pretty much, but King's book was just about all the public knew about the ritual workings of the O.T.O. - unless one cared to try piecing it together from apparently-O.T.O. rituals scattered around in various AC works like the _Book of Lies_, etc. Just as obviously, this is a book that the Breeze O.T.O. would probably love to suppress, and I'm glad the book got out before any of that British court action screwed it up." [e-mail December 2000]



G.M. Kelly, aka Martin [self-styled A.·. A.·.]:
Koenig "is an obsessive compulsive individual with a chip on his shoulder who is really good at digging up all sorts of interesting documents, probably because aside from this he has no life to speak of." [In: Newaeon Encyclical Letter, Spring 1998]



Jerry Cornelius [ex-'Caliphate'] on the postings re the 'Coypright Battle':
"Saw, your posting today regarding the lawsuit. What can I say, except pure brilliance! [...] You're a breath of fresh air in this Caliphate -"We Won" - fantasy so prevalent everywhere. Give em' Hell. Burst their bubble!" [e-mail October 2000]
"He is considered by some to be one of the more prolific researchers on the history of the OTO. Others are quick to point out that Koenig is notorious for taking history completely out of context for his own personal agenda. One author summed it up quiet nicely: "Part of this problem is rooted deep in the animosity that some Europeans have toward Americans. Who, I might add, have always resented the OTO Grand Lodge moving to this country. Even to this day some Europeans continually stamp their feet, whine and slander all that is American simply in the hope of fostering their own supremacy." Be that as it may, I kinda like the guy and I consider him a good friend and I hope he doesn't drink too much on his birthday! I should also add; although Koenig has written many books, to me he'll always be remembered for How To Make Your Own McOTO. [big smile here]" [blog entry 12th July 2007]



James Graeb [leading ex-member of the 'Caliphate']:
"I saw your new web site and personally think its terrific!!!!! In many ways, thank you for putting it up." [e-mail October 2008]



Stephan A. Hoeller, Freiherr v. Hoeller-Bertram [expert on the gnostic C.G. Jung]:
"My congratulations in vew of all of your splendid research. [...] It would be a joy to me to assist you a little with your valuable research." [letter August 4, 2002]




Genesis P-Orridge [musician and friend of William Breeze]:
"Thank you so much for all those links. Every single one was fascinating." "High octane stuff!" [January 2000]







ZENTRALBIBLIOTHEK ZüRICH, Kantons-, Stadt- und Universitätsbibliothek:
"Die Gestaltung der website https://www.parareligion.ch ist einmalig. Eine Perle. Gratulation!" [email December 2001]



Hans-G. Lesser van Waveren, Deutsches Freimaurermuseum in Bayreuth:
"Niemand anders als Sie trägt überhaupt und dann noch so gründlich dazu bei, 'Randphänomene' zu dokumentieren. Ich nehme immer mit Freude Ihre Arbeiten an" [email 02 Aug 2002]



Gion M. Cavelty [writer]:
"Der gestrige Abend wird als einer der grossartigsten und leuchtendsten für immer in meinem Gedächtnis eingeprägt sein, und das nicht wegen Giger, auch nicht wegen Akron und schon gar nicht wegen Michael von der Heide, sondern ganz allein Ihretwegen, Herr König! Der Dank ist zur Gänze auf meiner Seite. Wenn ich nicht so faul wäre, würde ich jetzt sofort mit dem Exposé beginnen. Ich werde mir bis zum Abend aber eine gute Ersatzsubstanz für Sperma überlegen und darum herum eine ganze Kosmogonie aufzubauen beginnen. Kurt "Die sieben fetten Jahre" Aschenbecher" [November 2000]



thelema93-l@hollyfeld.org, Date: Fri, 28 Apr 2000:
"Surely you will understand Koenig is an enemy of the Order. His embrace is the kiss of death."



Marcus M. Jungkurth [HQ 'Caliphate' in Berlin]:
"This is to inform you that I herewith put you on Bad Report with immediate effect. Grounds are the entries in your lifejournal, where you posted photographs and information about members of our Order without their permission. You also posted material from Mr Koenig on your site, a declared enemy of our Order, which constitutes an act prejudicious against OTO. " [e-mail to a member in June 2006]



Christopher S. Hyatt [Golden Dawn]:
"Peter-R. Koenig is a collector of data, sometimes called a gatherer of data, g.o.d. for short. He likes to solve puzzles and in particular the one sold as cOTO..... I don't know Peter well, I knew of his reputation as an evil character who was attacking the "thelemic current" of the Coto. [...] So with all of this we ask who is Peter-R. Koenig, I frankly don't know, except he is polite and friendly as he gathers data from the latest leper and victim of the COTO ........some might say he is using me and I him, but what is wrong with use, when you have been misused because you believed in brotherhood, promises and the COTO...... I say mutual use is a virtue ....... so for today I end my discussion of who is Peter-R. Koenig ..... but keep in mind tomorrow is another day ......."
[May 2003]



Martin P. Starr [M.R. Motta's A.·. A.·. in the 'Caliphate']:
"König as a 'moral entrepreneur' employs a substantive use of apostate narratives to support his portrayal of the OTO as a socially deleterious pseudo-religious cult deserving of condemnation for its 'proto-facism'." [in Chaos from Order, April 2006]










Bradford Verter [professor of religion and culture]:
"I have no doubt that English editions of Mr. König's work, particularly 'Das OTO-Phänomen', will appeal to a readership beyond the limits of academia. [...] Journalists, and other educated layfolk will also find much of interest in König's critical perspective on the history of organised esotericism." [letter January 1996]
"Although I do not doubt Peter Robert Koenig's particular expertise and salute his extraordinary diligence, I will note that his methodology is that of a partisan journalist rather than a disinterested scholar." [July 2005]




"An impressive site/subj. matter/sophis. POV detectable!" "I find our points-of-view & "terminology" seem to coincide a lot..." "So I've been reading at your site alot...It's an impressive array!" George Elliott, guitarist and composer for Klaus Nomi ("Klaus gave me the only houseplant which has survived my green-less thumb!") [correspondence 1999-...]



Angie Bowie [ex-wife of David Bowie]:
"I am lifting my head from reading your Spermo-Gnostics and the O.T.O. lecture.
You must be nuts! You don't believe that crap do you? Wounds of separation are women's lot for their whatever......? menstruation etc. that is old Islamic Fundamentalism. You better read POP.SEX the minute it comes out! Gnosticism has nothing to do with the occult. It's like trying to say that Shamanism is part of the Occult. Leaders of the Occult are only leaders during their lifetime; they are cults of personality and therefore of no interest in the placement of history. They are a footnote of stupidity and an endorsement of how fanciful man can be in trying to establish his importance on the planet.
Crowley was an idiot disposed to alcohol and drugs to obliterate rational thought and/or conclusions, a sorry excuse for a researcher, he had no quest, no vision just self-indulgence. Crowley was a con man for matrons and 'income on two legs' as described by British writer D. H. Lawrence." [e-mail May 2003]