Karl Johannes Germer was born on 22 January 1885 in Elberfeld, Germany. His brothers and sisters were named Elisabeth, Margarete, Otto, Wilhelm, Gustav and Alfred. From 1900-1904 he was living in London. For his military involvment in 1908-09 in Dixmuiden, Lemberg, Stochod and Armentières-Lens he received the Second and the First Class Steel Cross. Between 1912 and 1914 he became representative of the Alfred Herbert Lt (Coventry) in Berlin. During World War I he served in Belgium, Russia and France.

In 1919 Germer met Heinrich Traenker in Leipzig.
In 1923 he sold his house in Vienna and moved to Munich in order to publish the magazine "Pansophia", together with Otto Wilhelm Barth and Traenker. In 1925, while visiting Germany, Crowley first stayed at Traenker's home but soon moved to the Germer's. In the same year, Germer was a patient of Alfred Adler in Vienna [there exist no surviving papers on this in any of the Adler-Institutes]. In 1926 Germer got a divorce from his first wife Marie Wys in Mexico in order to marry the rich Cora Eaton in New York on 15 January 1929. Back in Germany he was arrested on 13 February 1935 by the Gestapo. His wife Cora (who was staying in the US) and Martha Kuentzel (in Leipzig) unsuccessfully tried to have the American Ambassador to complain about the arrest.
Between February and August 1935 Germer was a prisoner in a Concentration Camp in Esterwegen.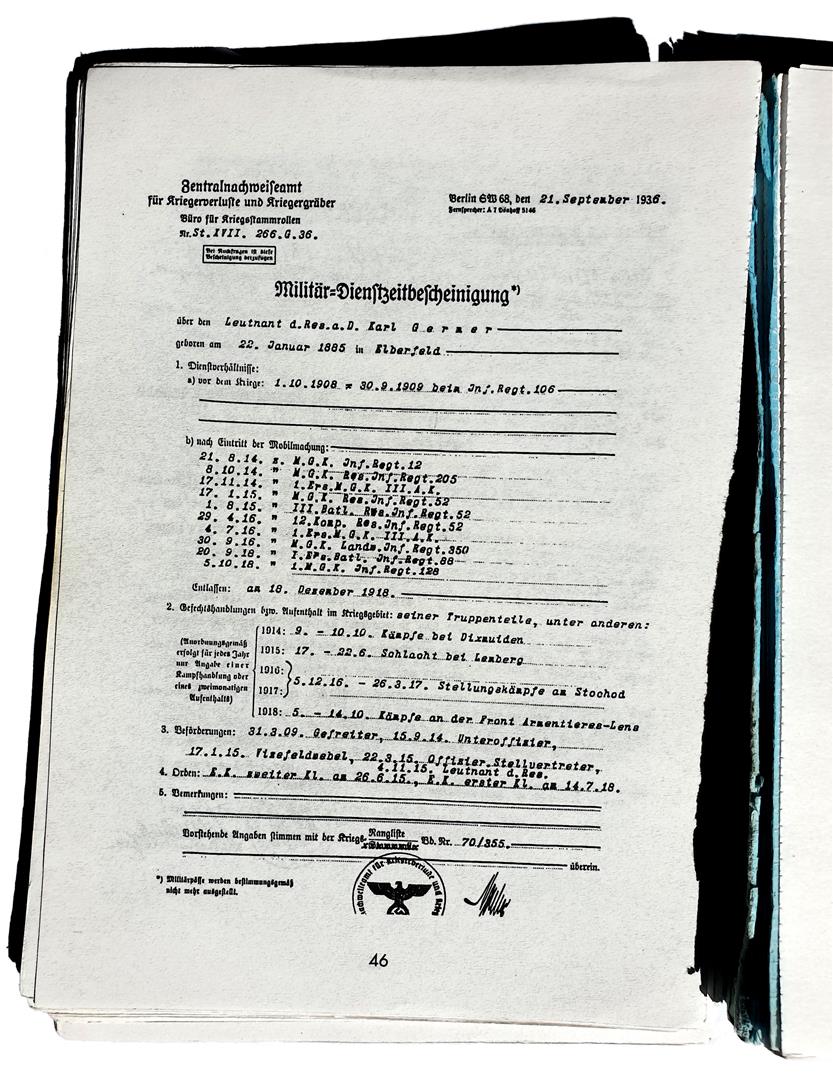 [From: 'Materialien Zum O.T.O.']





In October he fled to England and arrived in Dublin on 1 December 1936 where he worked as an Engineer. Between 1939 and 1940 he wrote 223 pages of his autobiographical book "Protective Prisoner No 303" about his experiences in the Concentration Camp. At the outbreak of WWII Germer stayed in Belgium and was deported on 10 May 1940 to France. He was released on 1 February 1941.

Karl Germer's divorced his first wife, Marie Wys, while he was in Mexico in order to marry Cora Eaton. His second marriage took place on January 15th 1929 in New York but the rich Cora died on July 13th 1942. Two months later he married his third wife, a Vienna piano teacher named Sascha Ernestine André. Sascha was born in 1891 alias Elly Aszkanasy and also had given singing lessons. With her money, Germer supported Aleister Crowley.
Later she took Aleister Crowley's urn, filled with his ashes, and strewed its contents into the mud at the base of a tree in Hampton, New Jersey.