How the 'Caliphate' could claim to be a "religion" AND a "trade" (i.e. commerce) at one and the same time? Anyway look at the bottom of their new revised home page at http://oto-usa.org and it says,

"Template "index.html" last modified on Friday, May 09, 2003. All material © 1996-2003 by Ordo Templi Orientis. Ordo Templi Orientis, OTO, and the OTO Lamen are registered trademarks of Ordo Templi Orientis. Ecclesia Gnostica Catholica is a registered trademark of Ordo Templi Orientis USA. Webmaster email: webmaster@oto-usa.org "

Has anyone tried to look up 'exactly where' these alleged trademarks are registered? CAN someone actually register something like the 'OTO Lamen' considering it was in the public domain (I believe)?

Well I have verified that OTO — in Canada and I assume in Switzerland too since the head office is Swiss — is NOT a 'registered trademark' of the 'Caliphate'...

I found the USA registry, the Swiss OTO is registered there too:

http://tess2.uspto.gov/bin/showfield?f=doc&state=ekj2uu.2.3

and, surprisingly, the registration of trademark of O.T.O. by the bezerklians is actually "dead" (???) since 1998...

http://tess2.uspto.gov/bin/showfield?f=doc&state=ekj2uu.2.30

very strange that it would be "cancelled/dead" and yet mentioned on their website as a "registered trademark", well I think so, anyhow...

Now this is interesting, it was only published four days ago for 'opposition' — which I assume means that one could legally challenge the registration:

http://tess2.uspto.gov/bin/showfield?f=doc&state=ekj2uu.4.1

what I find hilarious is the "playing cards" bit on both registrations!

The disclaimer is good, nice to know they aren't claiming exclusive use of the Catholic Church bit! LOL!

Also, in Canada, the little dog is registered as an "OTO logo design" TM, I thought it was cute :-)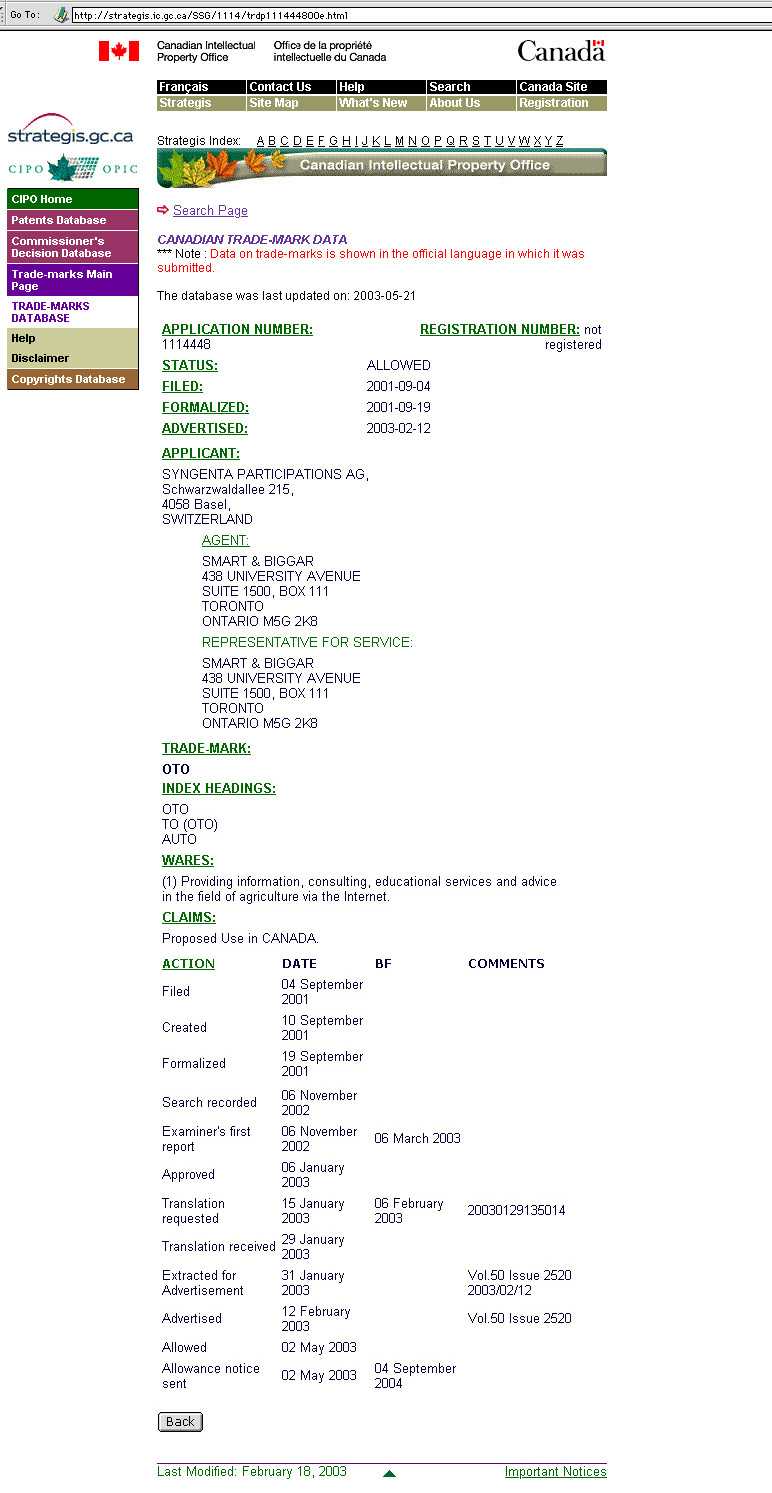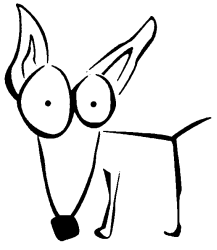 wonder why the 'Caliphate' let the "OTO" name lapse? maybe that's why there is so much interest now in promoting themselves as a "Thelemic Community"... (?)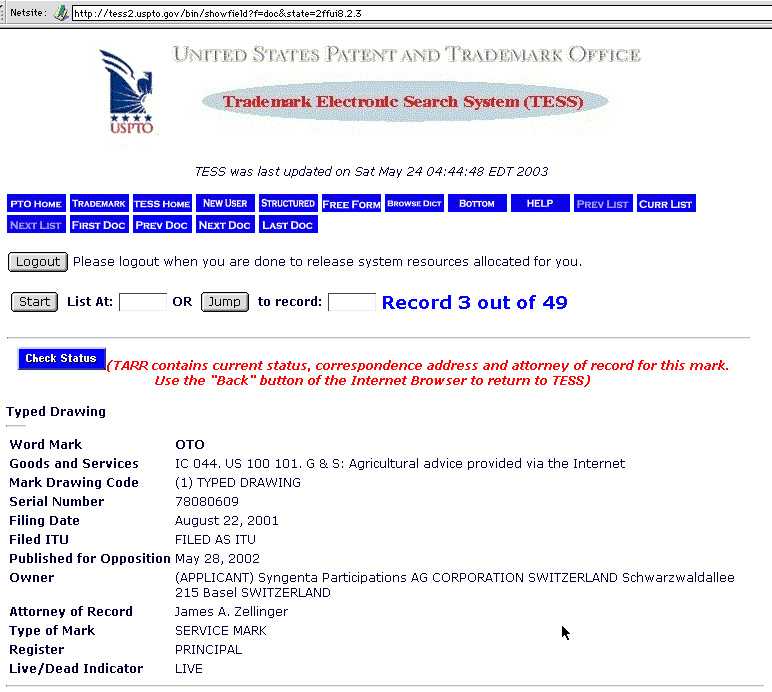 i had lots of trouble with their [TESS] search, then i had a thought, to try looking for Trademarks owned by "Ordo Templi Orientis". The list shows 11 that they own....

here's two more, one is the one that is "dead" since May 4,1998 and the other, surprisingly, lists Bill Breeze as the "Attorney"

That one is still "live", too... but it's "O.T.O." with the periods.... I haven't yet looked at all the other 8 most of which are "dead" anyway, but so far I haven't found them owning the "OTO Lamen" as a Trademark, anywhere...

ok in case you want to see the other docs, i will tell you how to get there...

go here:
http://www.uspto.gov/trademarks/index.jsp

on the left-hand side of the menu, click on "search trademarks" under "Services" (it's right at the top) — i think they log you in there, which is why you couldn't follow my links before....

now you are on a page that says

"Select the Search Form"

i chose "New User Form Search (Basic)" — this takes you to the "Search page". There seems to be a problem with their database, because I kept getting error messages when I typed in "O.T.O." no matter which browser I used, so that's where I decided to type in "Ordo Templi Orientis" — in the "Field" menu I put "owner name and address" and that brought me to the page that listed the 11 that they own... (which is attached).... once you get the list you can access the registry information...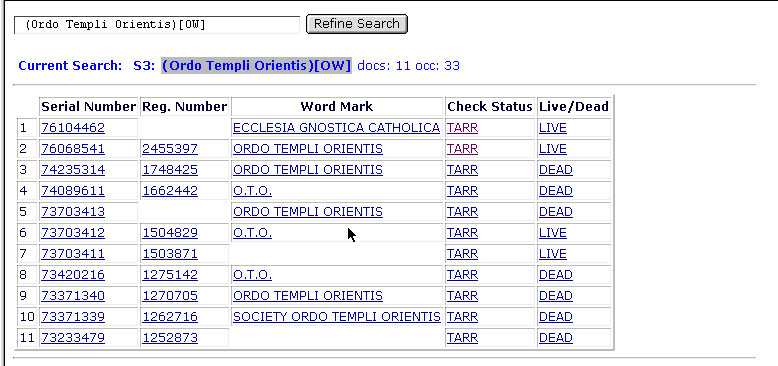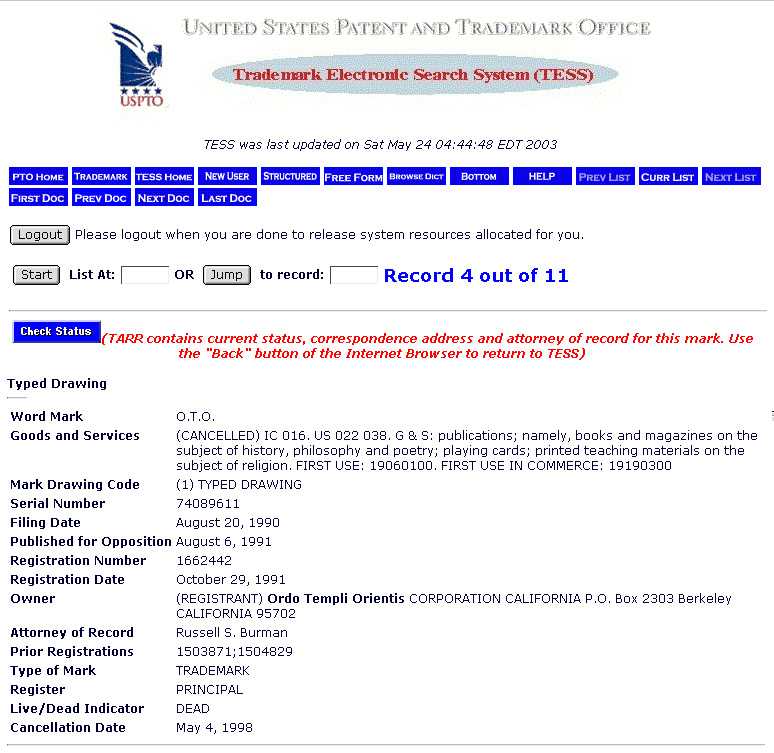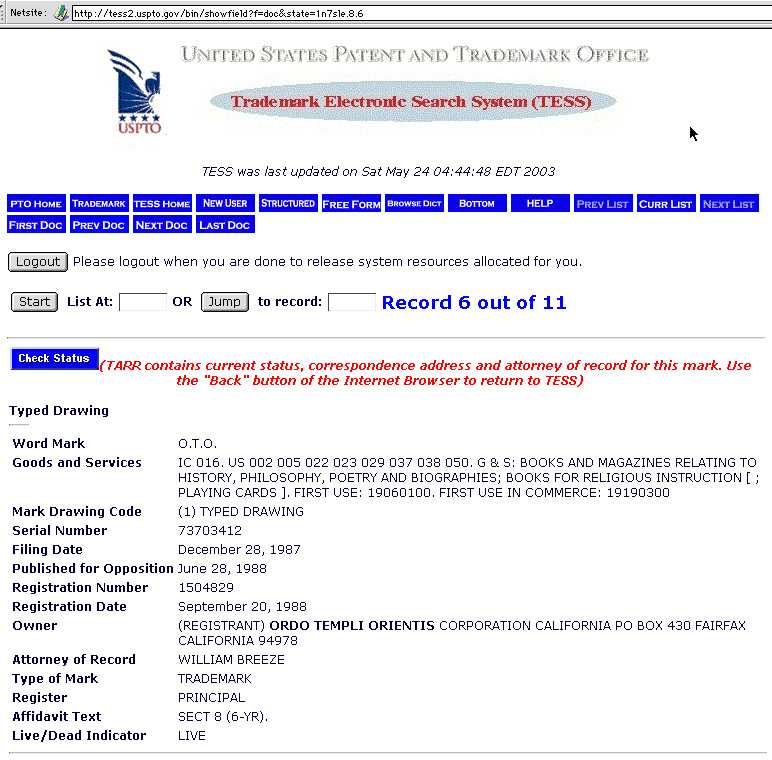 hahaha the date "First used in Commerce" is 1919.... and the date first in use is 1912!