In April 2006 Slaughtered Dove had "Great ideas about the Koenig-burger... I can see a picture taken in a McDonalds (but with all the signs changed to read McKoenigs (using the McDonald font and colours). Stood at the counter (serving) are the Addams family (maybe with different heads?). In the background would be a really nasty abbatoir type scene and the menus (above the counter) could be related to the OTO degree system... Like - The Minerval Salad... 1st deg Strawberry Shake... 7th deg Hotdog... 9th deg McFlurry... etc... etc..."

And this is how it ended [19 out of 21 pages are reproduced here].


[click on small pictures to enlarge]
| | |
| --- | --- |
| Title and Content | |
| Shish-Ke-Bill | |
| Pizza alla Tifoniana | |
| Roast Heidrick en Papillote | |
| Salade Grecque Marcelo Motta | |
| Have You Tasted Our ... ? | |
| Meet the McStaff | |






Bryony Murds has announced more to come:

"Salmagundy au Sabazius", "Quiche Duquette", and "Staley's Stale Omelette" (because of the fried-egg eyes common among Typhonians). And apart from your cod-orders of W.A.N.K.E.R.S. and T.O.S.S.E.R.S., sure R.O.T.S.B.A.L.L.S. deserves a look-in too ;-)"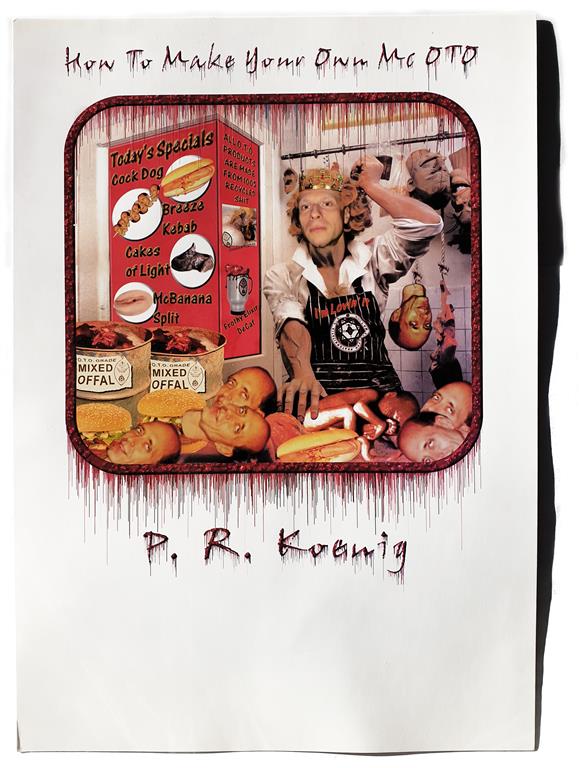 Postcards by Slaughtered Dove



© by Bryony Murds and Slaughtered Dove







O.T.O. Phenomenon navigation page | main page | mail
What's New on the O.T.O. Phenomenon site?



Scattered On The Floor
Browsing Through The Rituals