1890 Eglise Gnostique founded by Jules Doinel without apostolic succession.
1892 Doinel consecrated 'Papus'.
1894 Doinel passed his office on to Fabre des Essarts.
1899 Fugairon published a "Gnostic Catechism".
1902 Bricaud became a member.
1904 Peithmann published the "Gnostic Catechism".
1906 the name 'Église Gnostique' was enlarged to "Gnostic Catholic Church" (EGC, Ecclesia Gnostica Catholica).
1907 Bricaud became head of the Church, and wrote a "Gnostic Catechism".
1908 schism.
1911 the Church became allied with Martinism.
1912 Reuss became Gnostic Legate.
1913 Bricaud received an apostolic succession.
1917 Reuss translated Crowley's Gnostic Mass into German.
1919 Reuss became Gnostic Legate for Switzerland, while Bricaud became a representative of Reuss' O.T.O.
1920 Bricaud wanted to introduce Crowley's "Mass" as the religion for Freemasons.
1921 Bricaud's letter-headings reminded to Reuss's 'Neo-Christian O.T.O.'.
1924 Kurtzahn named himself Ecclesiarch.
1925 Kurtzahn wrote on the 'Gnostics and the Invisible Church'.
1930 Krumm-Heller met Leadbeater.
1934 Chevillon became overall chief of the Church.
1936 Chevillon received an apostolic succession.
1938 Chevillon consecrated Clymer.
1939 Chevillon consecrated Krumm-Heller.
1944 Crowley named Crow as head of the Church.
1972 Crow consecrated Poling.
"Martinism"
1891 re-founded by 'Papus'.
1901 Reuss became 'Inspecteur Spécial'.
1916 Détré became leader.
1918 Bricaud became leader.
"O.T.O."
1912 Crowley became O.T.O. leader for England and Ireland, and published his "Statutes".
1914 Crowley's "Statutes" published by Reuss.
1915 Crowley described Reuss as "Most Reverend Father".
1917 Reuss called himself leader of the Gnostic Neo-Christian O.T.O. and published new "Statutes" with world-wide applicability.
1918 Supposed split of the French O.T.O. (Jean-Maine).
1919 Bricaud became O.T.O. Delegate.
1919 Crowley, in financial straits, again published his old "Statutes" that were subordinate to Reuss.
1920 Freemasonry broke with the O.T.O.
1920 Kurtzahn participated at Reuss' O.T.O. Chapter-meetings.
1921 Crowley declared himself OHO.
1922 Crowley allegedly met Reuss in Italy.
1933 Peithmann emigrated to the USA.
1948 Crow named himself OHO of the O.T.O.
"Memphis-Misraim"
1908 Reuss gave MM titles to 'Papus', Bricaud and Détré.
1912 Crowley received MM titles.
1916 Détré became chief of the MM and Martinism.
1918 Bricaud became chief of the MM and Martinism.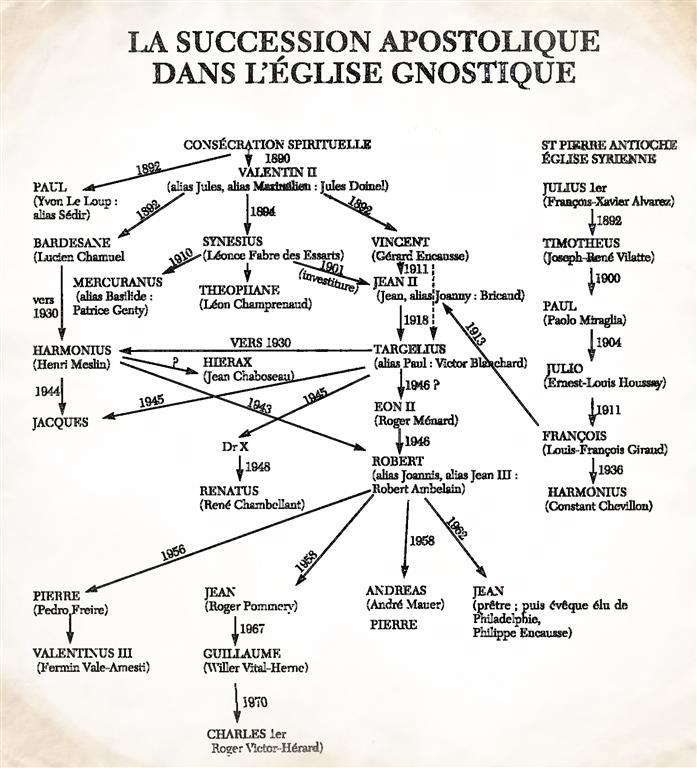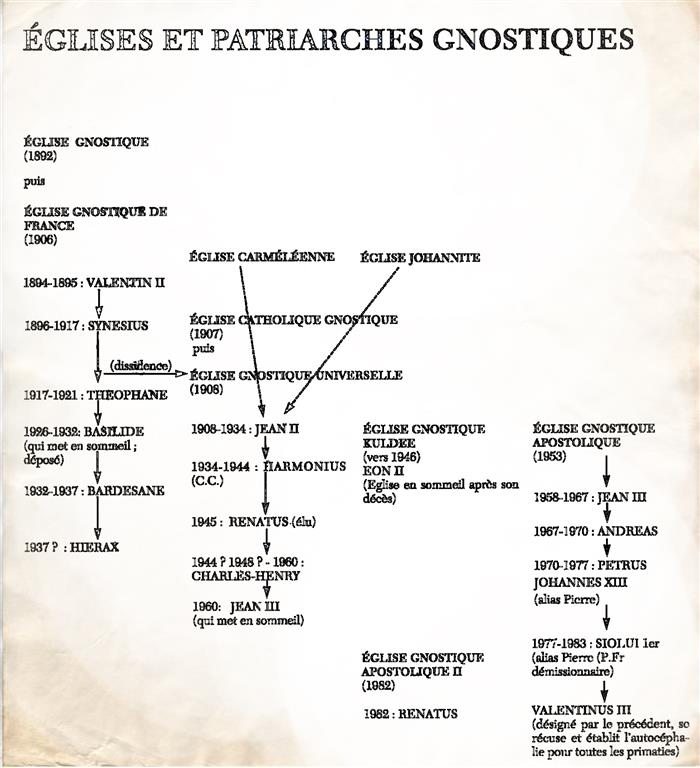 CREEDS OF THE GNOSTIC CHURCHES ASSOCIATED WITH THE O.T.O.
Creed of the Eglise Gnostique Universelle at Lyon, 1908
The sermon of H. H. + Johannes Bricaud (Jean II) on the occasion of his appointment as Patriarch of the Universal Gnostic Church in Lyon, 1908.
— We believe in the Divine Archetype [Proarche] and the eternal Progenitor
[Propator], in the unending and almighty Being, come forth from the Heavenly Powers into perfect Presence, God in One and Three.
— In the First Aspect of the Trinity
[tridyname], the Father, who brought forth all things visible and invisible.
— In the Second Aspect of the Trinity, the Son, the Divine Logos, in which Christ is revealed, the spiritual and physical Light, true God as his Father and of one substance with Him.
— That the same had appeared on earth in the Person of Jesus, the supernatural Spirit, who came down to us, so that He might join with a soul and a body, to be like us; in the womb of Miriam.
— That the same since the moment He appeared in Jesus, was consecrated and had suffered.
— That spoke to us through His mouth and taught us the Gnosis and the true holy life, so that we shall be free from slavery of the Demiurges and their earthly Archons, and as he made our return to the pneumatic World from which we came possible, where He returned after his death.
— We believe in the Third Aspect of the Trinity, Life, which follows from the Father as from the Son, and reveals itself in the Pneuma-Agion, the Holy Ghost.
— Who gives us joy in life, and leads us on the Path of Truth and Holiness, who unites all beings, who is worshipped in the Father as in the Son.
— We blieve in a Pneumatic Universe, immeasureable Church od the Spirit, as old as God Himself, and older than the Material
[hylic] Universe, where our globe finds itself as but a colony in the Perisphere, whereon we men descend as spirits.
— We profess the two Baptisms, and the three other Mysteries of the purification and conversion of mankind.
— We await the institution of the Heavenly Kingdom on Earth, and the original state of mankind.
— And finally the Resurrection of the Dead with Jesus, the Head of the earthly Church; the ascension and establishment of this association in Heaven; the dissolution of the Fallen Spirits, and likewise the dissolution of the Material
[hylic] Universe, the work of the Demiurges.
Amen."
Lyons, 1908.



Creed of the Église Gnostique de France, Paris 1913
Marie Chauvel de Chauvigny Esclarmonde (Sophia), from: "Bref Éxposé de la Doctrine Gnostique", Paris 1913. [Allegedly Aleister Crowley wrote his Gnostic Mass in the same year]
I believe that everything comes from an indescribable, limitless, and formless Universal Principal. It is One in its Essence, threefold in its appearance: Father, Son, Spirit.
I believe that this Principle is the ultimate Progenitor, that Thought is indivisibly united with Him, and that the Hierarchy of Holy Æons are His attributes which He has brought forth, through which He manifests himself, and proceeding fom him, are one with Him.
I believe that the Demiurge is the Principle of division and egotism, that it begat all restriction, and is the begetter of all forms and existences; the ultimate Principle, which is in the Demiurge, and which with it is bound to the Universal Spirit, comes directly from the Progenitor.
[is missing.]
I believe that the Æon Christ (one with the Holy Spirit) appears to us through the 'Saviour', and that the Saviour in our earthly age is Jesus, from whom the Eternal Gospels were inspired.
I believe in the mission of this 'Saviour', that it prepares us for the coming of the Helper
[Paraclete], which is the Holy Ghost, and that it appears to us through the Virgin of Light.
I believe that all beings are finally united in the Womb of the Pleroma, where harmony, justice, and grace shall reign in all Aeons.
Aom!
T. Esclarmonde S., February 26th 1913.

Original: S.-J. Esclarmonde: Bref Exposé De La Doctrine Gnostique, Credo gnostique, 1913



Theodor Reuss: Our Fundamental Tenets, 1913
"God and the world (visible and invisible) are an all all-embracing, immeasureable kingdom (the universe), consisting of the known proto-energy (or power of creation), the universe's positive properties, and the unknown proto-substance (or world-egg), the universe's negative properties; which through contact with itself (spontaneous generation, coition) may generate new worlds and creations that are in principle identical, and continue creating such things. And because of our observation that the universe is a twofold thing, positive and negative (also dual), and that 'life' is only maintained by their union, we describe our observation as dualistic world-view.
The identity of the creations with the creator lies in the fact that the original power of creation (or power of generation) also dwells in the creations. The ability of the creations to engender further creations of the same sort and breed, through the act of generation (by creation or reproduction) is inherent proof of their (divine) descent from the original creator (or generator). It is in this sense that the words of the Bible are to be understood: 'So God created man in his own image, in the image of God created he him.'"
"Oriflamme" of July 1913.
Creed of Reuss and Crowley's Gnostic Catholic Church
"I believe in one secret and and ineffable LORD: and in one Star in the company of Stars of whose fire we are created, and to which we shall return; and in one Father of Life, Mystery of Mystery, in his name CHAOS, the sole viceregent of the Sun upon the Earth; and in one Air the nourisher of all that breathes.
And I believe in one Earth, the Mother of us all, and in one Womb wherein all men are begotten, and wherein they shall rest, Mystery of Mystery, in Her name BABALON.
And I believe in the Serpent and the Lion, Mystery of Mystery, in His name BAPHOMET.
And I believe in one Gnostic and Catholic Church of Light, Life, Love and Liberty, the Word of whose Law is THELEMA..."
Re-translation of Reuss': "'Die Gnostische Messe', Aus dem Original-Text des Baphomet, übertragen in die deutsche Sprache von Merlin Peregrinus", 1917. Facsimile in "Der Grosse Theodor Reuss Reader"
Creed of Arnoldo Krumm-Heller's Gnostic Mass
"I believe in Mary, Maya, Isis, or those of lesser renown, in the physical force symbolised in Nature, whose conception and illumination reveals the fertility of Nature.
I believe in the mystery of Baphomet and the Demiurge.
I believe in one acknowledged superior Church, supported by pure souls; in the White Hierarchy, represented by the White Brotherhood, and which has its exponents in the Holy Gnostic Church, ruled by Patriarchs, Apostles, Bishops, and Priests.
Our Law is Love, Life, Liberty, and Victory.
We have taken the motto Thelema."
Arnoldo Krumm-Heller: "Misa Gnostica", no date. Facsimile in the books by P.R. Koenig
Fraternitas Saturni: Juste Cruci Suffixus Est
"The Light struggles with the Darkness. The Solar Logos fights with the pale demiurge, with Saturn, the lost Son, for the rulership of his realm. Two planets circle our mother-star first in narrow orbits - Mercury and Venus. In esoteric terms they free us from the rulership of Saturn. On the next planet, on our Earth, the battle has been raging for millions of years; it stands at a highly significant intersection within the planetary chain, for the spirit of the Earth is still unredeemed. The outer planets are still servants of Saturn, the Dark Angel. The outcome of this battle is decided in us, in men's hearts."
(Karl Spiessberger, "Blätter für angewandte okkulte Lebenskunst", Nº 45, 1953).

"But the desire to serve the highest principle of Saturn brings the most profound knowledge. 'Lucifer' as the Morning Star is not only the great fallen Angel Lucifer, but also the brother of Christ. Saturn in his higher octaves is the embodiment of the deepest lessons of maturity through suffering. And within his darkest portal stands the resolution. Saturnus, the guardian of the threshold, then illuminates with a pale light — distorted — the kindness of Jupiter, when his symbol has turned into a mirror-image."
(Grosche, "Blätter" Nº 48, 1954).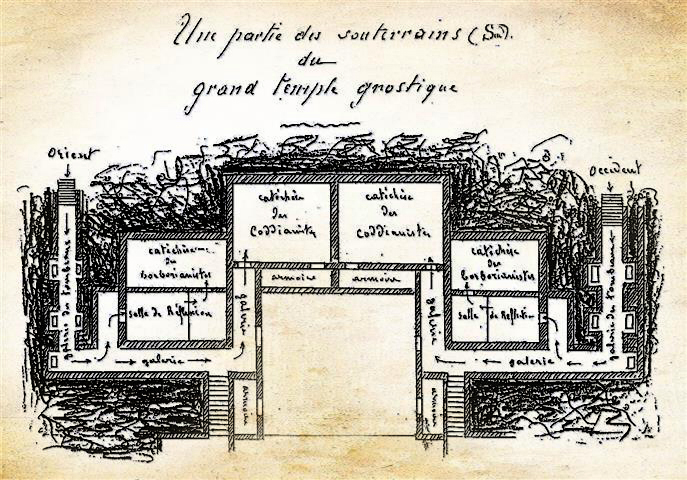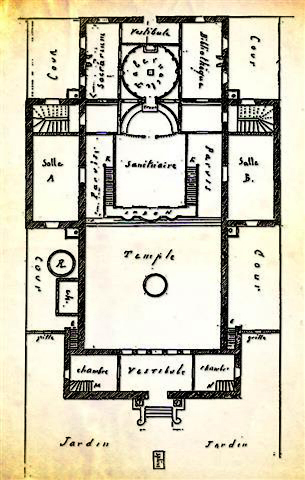 O.T.O. and E.G.C.: For A Pretence, Make Long Prayers [1]
It is highly probable that Hermann Joseph Metzger was responsible for linking the O.T.O. phenomenon to the concept of 'apostolic succession', [2] or as he called it, the "Antiochite-Jacobinic Succession, Syro-Malabarite Line of Mar Athanasius since 1877." [3] Today, some new O.T.O.-groups (e.g. the "Caliphate") try to copy this scheme.
To understand this claim, the following three (highly simplified) lines of succession should be borne in mind:
the Vilatte line
Jules Doinel's Gnostic Church
the schism under Joanny Bricaud's leadership.
(a) Paulose Kadavil Kooran "Mar Athanasius", 1833-1907, legate of Ignatius Peter III of Antiocha, was Syrio-Jacobinic bishop of Kottayam in Malabar. On July 29th 1889 he consecrated Joseph René Vilatte, who took the name Mar Thimoteus I. He was born in 1854 and was ordained on June 7th 1885 as a priest of the Swiss 'Christkatholische Kirche', a branch of the 'Altkatholische Utrechter Union'. Vilatte then proceeded to consecrate a vast number of bishops, but these consecrations and the Orders he founded were not recognized by the Jacobite Church, the Syrian-Antiochan Church or the Roman Catholic Church.
Omitting dates and full details, the following line of succession leads to the Reuss-O.T.O.: Alvarez, Vilatte, Gulotte, Hussay, Giraud and Joanny Bricuad (after July 21st 1913). Villatte died in 1929. It should be noted that Vilatte was never a member of any 'Gnostic' Church.
(b) On September 21st 1890 (?) a new church appeared overnight in France: Jules-Stanislas Doinel (8.12.1842-16.3.1902) founded L'Église Gnostique based on his encounters with 'Mother Mary"' — as a medium; he called himself Patriarch 'Valentin II'. Doinel had close friends within Theosophy, for example Lady Caithness. [4] In 1892 Gérard Encausse "Papus", who was also a Theosophist, entered Doinel's church.
In 1894 Doinel surrendered his office to the Martinist Leonce-Etienne (Eugene) Joseph Fabre des Essarts "Synesius" (1848-1917). In 1901 Bricaud became involved; on June 24th that year Theodor Reuss became Martinist 'Inspecteur Spécial' for Berlin; Papus had refounded Martinism in 1891, and was now its chief. In 1906 the Church's name was changed to 'Église Gnostique de France'. The Church adopted a form of Mass that was described as being similar to the "old Catholic tradition".
In 1907 Patriarch des Essarts died and Joanny Bricaud (now 'Jean II') took his place. But in 1908 a Gnostic schism occurred: the branch at Lyon under Bricaud took yet another new name; 'Église Gnostique Catholique' (EGC). Then it changed again becoming the Église Gnostique Universelle (EGU). Meanwhile the original Paris Église Gnostique of Paris had been taken over by Leon Champrenaud "Théophane" though it later disintegrated under Paul Genty "Basilides" in 1926. It is still not certain if Genty was the 'Basilides' who was said to have consecrated Arnoldo Krumm-Heller, or if Krumm-Heller meant E.C.H. Peithmann, who had the same Gnostic motto.
(c) Papus remained faithful to his Patriarch Bricaud. In 1911 Église Gnostique Universelle became the official church of Papus' Martinist movement. In 1912 Bricaud made Reuss a "Légat Gnostique" although Bricaud did not receive a valid apostolic (Vilatte) succession until 1913.
After Papus died in 1916, Charles Détré took over both Memphis Misraim and Martinism; both were then taken over by Bricaud when Détré's death in 1918. With a remarkable repetition of the Gnostic Church's 1908 split, the French O.T.O. fell asunder in 1918.
O.T.O. Gnostics and Templars
"The 'sacramental' understanding of apostolic succession of consecration is understood as the laying on of hands (in the milieu of a religious service or otherwise) conferring a particular rôle; the document that records this act (the 'instrumentum consecrationis') only had a subordinate rôle. This is in distinction to (pseudo-) Masonry, where the document (the 'Charter' or 'Warrant') has decisive (or even much greater) value, and the act of consecration itself varies, and is to that extent subordinate." [5]
On March 15th 1908 [6] Reuss sent 'Papus' a Memphis-Misraim charter, but it mentioned neither the O.T.O. nor the EGC. On June 24th 1908, Reuss bestowed charters on Papus, Détré and Bricaud, which still only mentioned MM titles. [7]
On April 21st 1912 Aleister Crowley received a charter from Reuss that nonetheless made no mention of the EGC. [This is important because some alleged Crowley- successors still pretend that Crowley was head of a traditional Gnostic Church related to the O.T.O. while he was only Head of his own created church]. As Bricaud got his first 'traditional apostolic' succession from Giraud in 1913, any possible consecrations in the period before that would only have been of a spiritual nature. Papus died in 1916.
At some stage in 1917 Reuss translated Crowley's "Gnostic Mass" into German for "the Gnostic Neo-Christian O.T.O.". In his introduction, Reuss spoke of "the lofty teachings of the holiness of the Divine Organ," and "the godliness of the earthly act of generation, as a parallel of the original divine act of generation." He claimed that "Therefore an act of love consummated under the control of the will in God, is a sacramental deed, a 'mystical wedding with God', a communication, a self-union with God. The holy Mass is a ceremonial, symbolic manifestation of a mystical union of man with God." [8]
Reuss described himself in the postscript to this translation as "present Head of the Gnostic Neo-Christians [...] Sovereign Patriarch and Primate of the Gnostic Church", and at the same time as only "Gnostic Legate of the Universal Gnostic Church of France for Switzerland" [9] under Patriarch Joanny Bricaud's leadership. Yet in the same breath he spoke of the latter as identical with the former; quite why remains uncertain. Had Reuss planned to found an independent EGC?
In H.J. Metzger's edition of this "Gnostic Mass" Reuss's references to Bricaud, Baptiste, Clement and himself are missing.
Reuss made Bricaud (33°, 96°) "délegué générale" of the O.T.O. for France on September 9th 1919; Reuss also granted Bricaud the power to found a Sovereign Sanctuary of the MM 95° in France for the first time, since the charter he had given to Encausse and Détré in 1908 had not been adequate for this. [10] In return, Reuss was made "légat gnostique pour la Suisse" by Bricaud on September 18th 1919.
Bricaud and Reuss then revealed their idea of introducing Crowley's Gnostic Mass as a Gnostic religion for the 18° of the Scottish Rite, at the Zurich Masonic Congress in 1920. This led to the final rupture between the O.T.O. and Freemasonry.
In 1921 Bricaud's stationary bore the legend "Église Chretienne moderne Néognostique" which was highly reminiscent of Reuss's "Construction programme and guiding principles of the Neo-Christian O.T.O.". [11]
One O.T.O. Mass no Church doth make
"Even if this ritual [Crowley's "Gnostic Mass" or "Liber XV"] were a lot more satisfactory from both a catholic and a Gnostic point of view, one would be forced to say: 'one Mass no church doth make' ... While there may be honorary degrees of Masonic orders conferred at a distance or 'on sight', this cannot be done in an ecclesiastical succession." [12]
Neither Reuss nor Crowley had been ordained in person; ever since it has proved impossible to verify their assertions that they had somehow received 'valid' ordinations. However W.B. Crow was appointed a Patriarch by Crowley in 1944 by post (see below).
Although many O.T.O. groups have claimed that Reuss and Crowley had been 'Bishops' and 'Patriarchs' of the Gnostic Catholic Church, and considered the office of 'Patriarch' a prerequisite for the OHO, this still leaves a pressing question about the authenticity of such an assertion. Robert Amadou, in his capacity as an expert on French secret societies, had this to say:
"1. In the matter of the OTO, I am not competent to judge, as the subject is strange to me. 2. So I do not know if Reuss and/or Crowley ever received an episcopal consecration in the apostolic succession. 3. So far as the story of the Gnostic Church in France is concerned, I can nonetheless confirm that to the best of my knowledge, there is no proof or even any record (a) that Papus ever received any consecration, apart from Jules Doinel's in 1892; or (b) that Jean Bricaud ever consecrated Crowley as a bishop ." [13]
The Crowley expert Gerald Yorke said: "Members of the OTO under either Reuss or Crowley were not "ex officio" members of the Gnostic Church in which neither they nor [Karl] Germer were bishops." [14]
So by 1912 Reuss had not gained a spiritual succession as a bishop from either 'Papus' or Doinel, whatever he may have claimed. Whether Reuss's MM and O.T.O. charter for Crowley of 1912 was in effect a bishopric as well — or not — it was Bricaud who first got an apostolic succession from Giraud on July 21st 1913. [15] The question arises as to whether Reuss' MM/O.T.O.-charter to Crowley in 1912 (where the term "O.T.O." was put in AFTERWARDS!) could be interpreted as evidencing the conferring of gnostic apostolic succession or not. Since Bricaud only received valid consecration via Giraud for EGU after July 1913, his appointing Reuss a gnostic legate in 1912 was not apostolic.
Did Bricaud consecrate Reuss after 1913? If so, did Reuss consecrate Crowley between 1913 and 1914 while they were in London? Did they ever meet afterwards (for example after 1918)? If Reuss did ordain Crowley as an apostolic bishop, it can only have been after July 21st 1913 that the succession might be passed on. After Crowley went to America in 1914, Reuss published a translation of Crowley's essay "Honesty is the best Policy" in May 1915; in the foreword, Crowley is only mentioned as Grand Master of the O.T.O. for England. [16]
In the same year Crowley dedicated his "The Giant's Thumb" (New York, 1915) to "the most holy King of the whole Earth, most Reverend Father in the Lord of the Gnostic Catholic Church, Frater Superior O.H.O. of the religious and military order of the temple oriental and occidental" — that is, to Reuss. No evidence has since come to light that Reuss and Crowley ever saw each other face to face after this.
At the beginning of 1919 Reuss was re-appointed as Bricaud's 'Gnostic Legate'; once again, the repeated claims that this involved being ordained as a bishop beg the question of whether Reuss then consecrated Crowley in turn — for after 1917, whatever the assertions to the contrary, Reuss employed no further Thelemic O.T.O. rituals, if ever at all. Crowley's diaries between 1914 and 1920 make no mention of ordination as a bishop, or any meetings with Reuss. And when Crowley did describe himself as OHO in his diary on November 27th 1921, he did not mention an ordination, nor is any such claim to found anywhere else in his diaries.
Reuss' O.T.O.-statutes of 1917 (of which Crowley's 1919-version, Liber LII, only abbreviates versions already published in 1912 and 1914) do not equate O.T.O. with the Gnostic Church. Crowley's version only says that the "wisdom and the knowledge" of several organisations — including the Gnostic Church — should be incorporated in the O.T.O., but NOT the organisations themselves.
Crowley wanted to annex Reuss' office of the OHO and started to quarrel with him. A few days after Reuss forbad him to mix Thelema with the O.T.O., Crowley noted in his diary on 27 November 1921: "I have proclaimed myself O.H.O. Frater Superior of the Order of Oriental Templars." [One month later, Reuss publicly announced himself and Arnoldo Krumm-Heller the heirs to Carl Kellner, that is OHO of the O.T.O.]. Reuss also tied in with Spencer Lewis' A.M.O.R.C. and told him that Crowley was expelled from the O.T.O..
In November 1921, Reuss definitely got rid of Crowley and separated Thelema from the O.T.O. Every thelemic O.T.O. from now on only is a breakaway group from the original O.T.O. Most Thelemites are fervently anti-Christian, so why should they care even if they claim succession from Papus, Bricaud & Co. who certainly were gnostic Christians rather than Thelemites? Valentianism and Catharism which were the foremost inspiratory sources for Doinel & Co. do not involve any "spermatikhos" speculations or practises.
Karl Germer, Crowley's heir (in this O.T.O. version), reported that Reuss allegedly met Crowley in 1922 in Palermo, Italy (near Cefalu), but this has not been substantiated by documents or diaries.
See also Stephan Hoeller: Position Paper Concerning the Thelemite or Crowleyan Gnostic Churches. About the importance of magical succession without schisms; about valid and proper intention of consecrations, and that one Mass no Church doth make
Crowley visited Bricaud at Lyons in 1924, and described him "as a kind of Jesus Christ" (according to Henri Birven's account in Metzger's "Oriflamme", Nº 120 of April 1972). But apparently no ordination seems to have taken place, despite the fact that Bricaud had wanted to introduce Crowley's "Liber XV" as the Masonic religion in 1920), no doubt in view of Crowley's expressed antipathy to Christianity (e.g. in "The Gospel According to George Bernard Shaw").
E.C.H. Peithmann and O.T.O.
Pastor Dr. E.C.H. Peithmann "Basilides" (3.5.1865-4.7.1943, died at Südhemmern) was a member of the Grail Order (founded in 1893) into which he introduced sex-magical practises. [17] After his departure from the Grail Order, he became the founder of an "Old Gnostic Church of Eleusis" dedicated to the "transformation of sexual energy" and the "liberation of the seed from servitude."
In 1904 Peithmann produced a "Gnostische Katechismus" which bore a close resemblance to the 1899 "Catéchisme Expliqué de L'Église Gnostique" of Louis-Sophrone Fugairon "Sophronius", and the 1907 "Catéchisme Gnostique" of Bricaud. 'Sophronius', who had already been consecrated by des Essarts in 1903, was later Bricaud's Bishop of Prague.
More on Peithmann's Correct Gnosticism
In 1923 Gustav Meyrink began to take an interest in Peithmann. [18] From his documents Ruben Pilares Villa discovered that Peithmann had passed the succession on to Krumm-Heller. [19]
"I was ordained Bishop of the Gnostic Church [in 1930] according to the ordained pattern, and some weeks after a congress held in London by the high dignities of the Ancient Gnostic Church, I decided to revive this church from dormancy. I visited Patriach Basilides, and he confirmed my powers to create congregations and parishes" in Spain and America." [20]
Peithmann made a point of distancing himself completely from Crowley in 1929, but according to his article 'Gnosis', published posthumously in Metzger's "Oriflamme" Nº 141 for January 1974, he was well acquainted with consecration ceremonies and grades bearing a close resemblance to those of the O.T.O. and the Golden Dawn.