Theodor Reuss
Yohn Yarker
Ancient and Accepted Scottish Rite 1902
<== ==>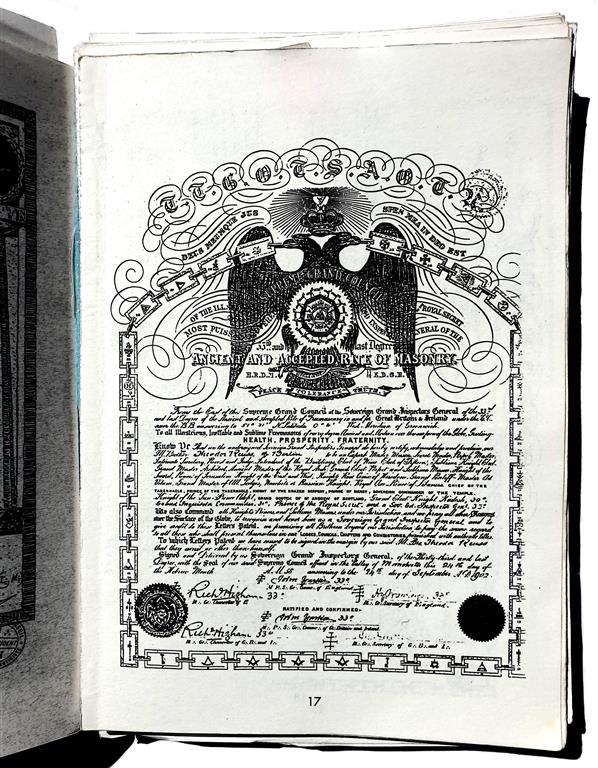 [From: 'Materialien Zum O.T.O.']




Theodor Reuss
Ancient and Accepted Scottish Rite
pre-Ordo Templi Orientis

 From the East of the Supreme Grand Council of the Sovereign Grand
 Inspector General of the 33rd and last Degree of the Ancient and
 Accepted Rite of Freemasonry in and for Great Britain & Ireland... Know
 Ye that we the undersigned Sovereign Grand Inspector General do hereby
 certify, acknowledge and proclaim, our Ill.Brother Theodor Reuss of
 Berlin to be an Expert Master Mason, Secret Master, Perfect Master, ...
 Grand Elect Knight Kadosh, 30°, Grand Inquisitor Commander, 31°, Prince
 of the Royal Secret, and a Sov.Gd.Inspector Gen. 33°... Signed and
 delievered by us Sovereign Grand Inspector General of the Thirty- third
 and last Degree with the Seal of our said Supreme Council affixed in
 the Valley of Manchester this... 24th day of September A.D.1902. John
 Yarker 33° ...


Theodor Reuss' O.T.O. rituals
O.T.O. Phenomenon navigation page | main page | mail

Mehr über diese Orden und ihre Protagonisten in: Andreas Huettl und Peter-R. Koenig: Satan - Jünger, Jäger und Justiz












Click here to go back to where you came from or use this Java Navigation Bar: