Roztr~ka vypukla v Curychu a ~enská část společnos­ti odeala. Ačkoliv Frau Wiegemannová dostala svolení zalo~it si svoji vlastní ~enskou ló~i, opustila O.T.O. 16. listopadu 1918, aby zalo~ila vlastní taneční akolu v Drá~ďanech v roce 1920. De Laban rovně~ opustil Curych v listopadu 1918, aby mohl tancovat v Mnichově a ve `tuttgartu (Německo) a Hilfiker se ja­ko velmistr stal jeho dědicem.

Větaina členů »Libertas et Fraternitas« se Reusse chtě­la zbavit. 1. února 1919 začali ignorovat dráhu O.T.O. a 26. dubna 1919 ló~e oficiálně opustila MM a O.T.O. a pokračovala pouze v rituálu z Cerneau za něj~ měl Reuss stále jeatě dostat zaplaceno. Bohatý obchodník Hilfiker vyplatil Reussovi 3000 avýcarských franků, co~ byla v těch dnech věru sluaná suma! Někteří členové vaak byli stále věrní Reussovi a 10. května 1919 podepsal Reuss Hilfikerovi jmenovací listinu, která se vztahovala k A.A.S.R. [Alte und Angenommene Schottische Ritus] 33° (setkali se?[23]). 24.4.1919 Reuss (33°, 90°, 97°, X°) a Ida Hofmannová (33°, 90°, 95°, IX°) rituálně (!) zasvětili Hilfikera do 30°a VI°. 10.5.1919 byl Hilfiker postaven do úrovně 33°, 95°, VII°.

Hilfiker musel podporovat svoji milenku v Curychu, H. Walderovou a jejich nelegitimní dítě, a tak jí koupil obchod s pleteným zbo~ím. V roce 1920 Odenkoven a Frau Hofmannová opustili `výcarsko a odcestovali do `panělska a Brazílie. Frau Hofmannová zemřela v Sao Paolo v roce 1926.

Reuss uděloval stupně O.T.O. členům »Libertas et Fraternitas«, ačkoliv ostatní s tím nesouhlasili. »Kdy~ u~ Papá Reuss v soukromí vyzdvihuje tyto lidi, ať se to tý­ká O.T.O., nikoli naaeho rituálu«, lamentuje Pargaetzi (tehdy 30° a VI°) a stě~uje si Hilfikerovi 4. dubna 1920, ani~ by si uvědomoval, ~e Hilfikerovi nále~í přinejmen­aím VIII°,[24] 12.5.1920 Joanny Bricaudová (1881-1934) udělila Hilfikerovi 33°, 90°, 95°.


Světová aliance svobodných zednářů.
Se vzpomínkou na esoterický kongres v Paří~i v roce 1908 (kde například Arnold Krumm-Heller přijal vysoké stupně zasvěcení v MM), uspořádal Reuss v Curychu v roce 1920 světový kongres svobodného zednářství. Zatímco v roce 1908 Reuss, Encausse (Papus, 1865-1916, 33°, 90°, 96°[25]), Blanchard a Détré (1855-1918, 33°, 97°, X°[26]) dychtivě změnili tituly, úřady a mo~ná i posvěcení[27], tentokrát byl Reuss vyslán patriarchou Église Gnostique Universelle, Joanny Bricaudovou (33°, 90°, 96°), aby Gnostickou mai Aleistera Crowleyho učinil »oficiální bohoslu~bou pro vaechny dr~itele 18° podle skotského rituálu«[28].

»V Memfis-Misraimu nemá 18° ~ádné křesťanské sou­vislosti ne~ mysticko-gnostické... jen VII°, VIII° a IX° zná jeho přesný význam«[29].

Tehdy se rovně~ začala distribuovat literatura uveřejňující »Ustavení se neo-křesťanů pod názvem O.T.O.« [Das Aufbauprogramm und die Leitsätze der Gnostischen Neo=Christen O.T.O.][30], která prezentovala utopickou společnost O.T.O. Ve stejné době Reuss rozaiřoval letáčky, v nich~ se bránil proti nařčením ze sexuálních skandálu pravděpo­dobně souvzta~nosti k uváděným homosexuálním úto­kům, které se odehrály kolem roku 1915.

Hilfiker a Rolf Merlitschek (30°, VI°) přivítali Reusse 17. července 1920 v chrámu »Libertas et Fraternitas«, kde se pořádal svobodozednářský kongres. X° pro Anglii, Crowley[31], a Charles Stanfield Jones (Achad, 1886-1950), který měl být brzo v Americe X°, nepřijeli, ač byli pozváni[32]. Reuss, gnostický legát Bricaudové [»Légat Gnostique pour la Suisse«], se­trval jen jeden den a nálada kongresu se otočila proti O.T.O., a v protokolu není například o gnostickém ná­bo~enství ani zmínky. 3. října 1920 rosikruciánské kapi­tuly (18°) z Tessinu se do~adovaly toho, aby »veakeré kontakty s Reussem a jeho takzvanou Gnostickou církví byly přeruaeny a pova~ovány za ukončenou věc«.

17. května 1925 se »Libertas et Fraternitas« stala čle­nem avýcarské velkoló~e »Alpina«, co~ fakticky znamena­lo zřeknutí se vysokých stupňů a »Velkého Orientu«. Od té doby jeho historie u~ nemá s O.T.O. nic společného.


Rozpad.
Alice Sprengelová (1897-1947), svého času spolupra­covnice Rudolfa Steinera, obrátila svoji loajalitu v roce 1915 směrem k Reussovi, kdy~ zjistila, ~e Steiner se v roce 1914 o~enil s Mlle Siversovou. Měla právo zaklá­dat ló~e O.T.O.[33] a v roce 1921 nále~ela k »Výkonnému koncilu tří (Nejvyaaích koncilů)«[34] »O.T.O., Anational Grand Lodge, Mystic Temple Verita Mystica, Orient Ascona« (ačkoliv de Laban tuto ló~i dříve uzavřel). Se Sprengelovou byly spojeny jeatě Frau Hardeggerová a Frau Jantzenová (o ní~ bude řeč jeatě dále).

Ve své první vůli z roku 1922 Reuss prohlásil Claru Linkeovou (Hilfikerovu milenku) za svoji dědičku, ta ovaem krátce potom zemřela. Jeho poslední vůle z 27. června 1923 zněla ve prospěch jeho man~elky a jeho domovníka bez výhod pro O.T.O., MM nebo Gnostickou církev.

Ji~ 27. listopadu 1921 si Aleister Crowley do svého diá­ře poznamenal: »Prohlásil jsem se za O.H.O. Frater Su­perior Řádu východních templářů« a po Reussově smrti v roce 1923 řekl Heinrichu Tränkerovi, X° Německa, »Chci získat kontrolu nad vaemi existujícími řády«[35].

Hilfiker popsal tuto situaci Constantu Chevillonovi (1880-1944, dědic Joanny Bricaudové): Yarkerova (1833-1913) původní jmenovací listina pro Reusse (kte­rá jej zmocňovala zakládat ló~e) měla být dle jeho (Reussova) záměru zaslána Hilfikerovi jako~to autorizo­vanému následníkovi. Avaak lady (jeho milenka Clara Linkcova?), která měla doručit tuto listinu, zemřela na cestě, téměř na okam~ik stejně jako Reuss. Yarkerova a Reussova listina doposud setrvává v Hilfikerově archí­vu, má datum 24. září 1902, a propůjčuje pouze 33° a nejsou s ní spojeny ~ádné osobnosti z MM. Nicmé­ně toto datum se vztahuje k Reussovi v jeho jmenova­cích listinách.


H. R. Hilfiker.


Hilfiker napsal gnostickému patriarchovi Chevillonovi: »Nehledě na fakt, ~e Heinrich Tränker se sám pro­hlásil za OHO... O.T.O. zemřelo spolu s Reussem«[36] a co se týče Aleistera Crowleyho, Hilfiker naznačil, ~e »se domnívají, ~e O.T.O. neexistuje«. V roce 1936 Hilfi­ker revokoval autoritu avýcarského MM pod patronací Chevillona, který byl na »Libertas et Fraternitas« nezá­vislý[37]. Chevillon v roce 1939 vysvčril Krumm-Hellera na biskupa a v roce 1944 byl zavra~děn gestapem. Hilfi­ker začal být aktivní znovu v roce 1947, kdy~ se spojil se Swinburnem Clymerem (1878-1966), který se sna~il vytvořit světovou alianci rosikruciánských řádu. Jistý úspěch se dostavil v Rio de Janeiro, kde Clymer spojil svoji organizaci s Krumm-Hellerovou. Hilfiker a Clymer se spolu setkali 7.5.1947 a také 5.6.1948 v Curychu[38].

Marguerite Faas-Brunner-Hardeggerová (1882-1963), v její~ písemnostech se naalo Wagnerovo libreto s Reussovým ex libris, ~ila po roce 1919 na Monte Verità. Je rovně~ známa jako Sestra Hyazinthe, a po smrti Alice Sprengelové byla rivalem Genje Jantzenové v boji o úřad ló~ového mistra avýcarské ló~e O.T.O. v Asconě. Moc nad touto ló~í byla příčinou předealých rozepří mezi Frau Hardeggerovou a Frau Sprengelovou. H. Walderová, Hilfíkerova milenka, se společně s Frl. Billwillerovou od Genje Jantzenove distancovaly.

Poblí~ Ascony přebývala jistá Frau Appiaová spolu s milenkou a sekretářkou F,ugena Grosche Hanne Wildtovou, která vaak strávila jistý čas s Frau Hardeggerovou. Eugen Grosche, zakladatel sexuálně-magicky ori­entovaného řádu »Fraternitas Saturni«, trávil svůj exil ve slunném Tessinu a v roce 1937 navatívil místní ló~i O.T.O.

V Curychu zůstala podstatná a významná část lidí spojena s dobře známým Felixem Lazerus Pinkusem (1881-1947), kde se pánové Struppler a Thomas Egloff velice zajímali o Abramelinova díla, ten druhý pak údajně ze­mřel v brazilské d~ungli následkem invokací podle Abramelina[39]. C. G. Jung se mo~ná rovně~ zajímal o Abramelina po onu dobu, kdy byl členem skupiny Oscara Schlaga »Hermetische Gesellschaft« Byli tu jeatě dalaí lidé spojení s Pinkusem, kteří se hluboce zajímali o zále~itosti O.T.O. Například Karl Brodbeck, po dobu druhé světové války strá~ce »Weltbund der Illuminaten« Leopolda Engela; pan Baumgartner, pan Merlitschek, pan Bader z Ně­mecka a samozřejmě Hilfiker a jeho adlatus pan Reichel.

Oscar Schlag, kterého Hilfiker neměl nijak zvláať v oblibě, si vzpomíná, ~e Hilfiker se pova~oval za proro­ka a vyvolence a souhlasí s mojí hypotézou, ~e se Hilfi­ker tajně pova~oval za vůdce O.T.O., ovaem ovlivněn apatnou pověstí Reusse a Crowleyho, dr~el to v tajnosti.

Je tu dalaí Schlagova domněnka, ~e Pinkus se dostal do O.T.O. bud prostřednictvím Frau Sprengelové nebo Hilfikera. Byl to Pinkus, který v roce 1945 zalo~il »Psychosophische Gesellschaft«, je~ se později stala střeaní organizací ke sjednocení řádů pod H. J. Metzgerem.


H. J. Metzger.
Hermann Joseph Metzger (1919-1990), pekař a exkomunista, vyrostl v tessinském kantonu a v roce 1943 byl zasvěcen do O.T.O. Genjou Jantzenovou a Alicí Sprengelovou.

V Curychu Pinkus docházel do Teosofické skupiny, kte­rá v té době neměla ~ádného zvláatního vůdce. Ačkoliv Pinkus uspořádal několik přednáaek, větaině členů nevyhovoval, a tak poměrně brzo zorganizoval svoji vlast­ní skupinu. Prostřednictvím Pinkuse Metzger tuto »ló~i« dvakrát nebo třikrát navatívil, ovaem vzhledem k tomu, ~e tam jenom propagoval své horoskopy a obklopovali jej lidé bez »skutečného« zájmu, tak se v této Teoso­fické skupině dohromady s Pinkusem u~ víckrát ne­objevil. Bylo vaeobecně známo, ~e Pinkus měl v úmyslu učinit Metzgera svým magickým nástupcem, a za tím účelem mu daroval křiaťálovou kouli[40].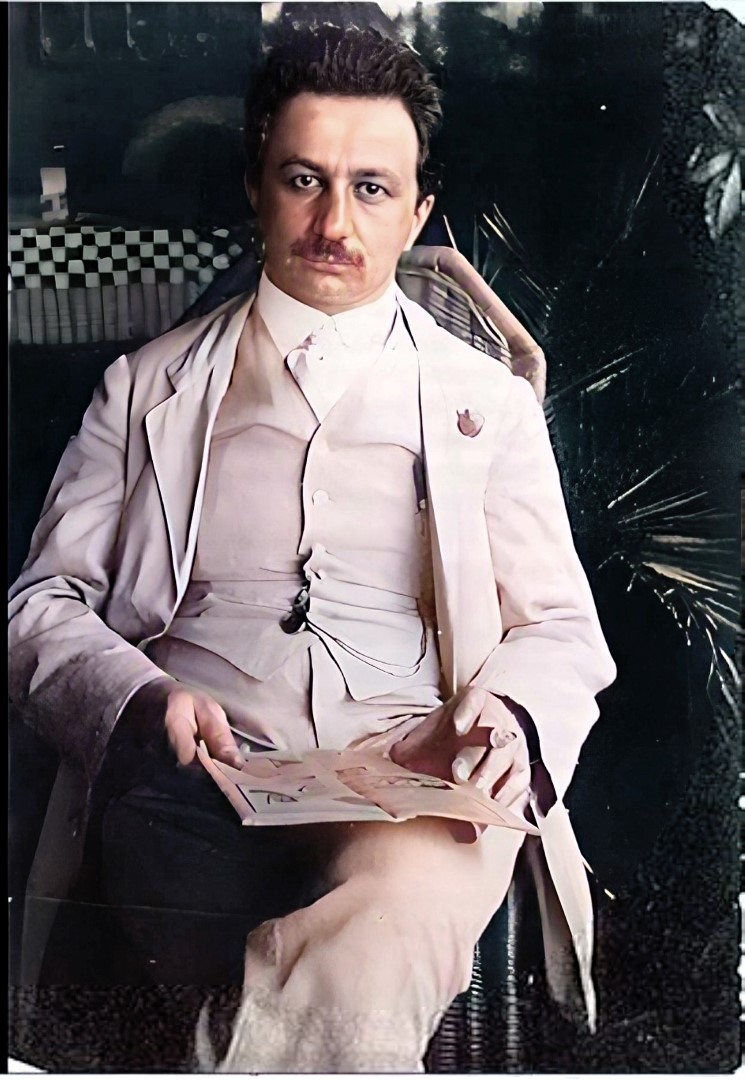 Po smrti Pinkuse v roce 1947 se avýcarská O.T.O. roz­dělila a Metzger se ujal vedení levého křídla, ačkoliv ho větaina seniorů neuznávala. Gundula Baderová (dcera dříve zmíněného pana Badera), která asistovala při Metzgerově zasvěcení v roce 1943, si není jista, zdali si Metzger vzal některou z originálních listin[41]. Opravdu je tu důvod věřit, ~e se tyto dokumenty do Opatství Thelema ve Steinu nikdy nedostaly. Metzger sám psal Karlu Germerovi (dědici Crowleyho O.T.O.): »Frau Jantzenová nevěděla nic o postavení Pínkuse, ani o mém«[42].
V roce 1951 se Metzger pokusil stát řádným svobod­ným zednářem, jen~e Hilfiker se proti tomu postavil, proto~e měl pocit, ~e Metzgera je třeba pova~ovat za esoterického kariéristu[43]. V roce 1948 dal Gerald Yorke Germerovi radu, aby jakékoliv odno~i Reussova O.T.O. přikládal větaí důle~itost ne~ Crowleyho linii O.T.O.[44] Rok 1951 byl rokem, v něm~ Metzgerův O.T.O., pocházející z linie od Reusse, obdr~el certifikát od Germerova O.T.O., udr~ujícího Crowleyho linii, přes­to~e Germer akceptoval Metzgera jako~to dědice Reusso­va O.T.O. Ve svých zasvěcovacích rituálech do O.T.O. (v nich~ chyběl jakýkoliv odkaz na Crowleyho) pou~íval Metzger pojem »Veritas Mystica Maxima«[45], kte­rý byl později nahrazen názvem »Ló~e Thelema«.



Vysvtlivky
[1] Peter-Robert König se narodil v Curychu a tamté~ studoval na universitě psychologii a etnologii.
[2] Ty by mohly být čtyři.
[3] Mysteria (Paří~) 2 (1913): 179.
[4] Mysteria (Paří~) 2 (1913): 83 a Initiation (leden 1911).
[5] Nuit-Isis (Oxford) 1/2 (Oxford 1987): 21.
[6] Crowley ho uveřejnil u~ v roce 1912. Crowley Cross Index, (Avon, 1976), 26.
[7] »The Equinox« III;1 = »The Blue Equinox« (Detroit, 1919), 195.
[8] Oriflamme (Schmiedeberg) (července 1914): 17.
[9] »Parsifal und das Enthüllte Grals=Geheimnis« (Schmiedeberg, 1914). Integrální verze bude brzo pu­blikována v knize »Kleiner Theodor Reuss Reader« (Mnichov, 1993).
[10] Ecclesiae Gnosticae Catholicae Canon Missae, vytiatěno později ve Schmiedebergu v roce 1918.
[11] Schmiedeberg, 1917, 2.
[12] Londýn 1906.
[13] Robert Landmann: »Ascona Monte Verità« (Frankfurt, 1971), Harald Szeemann: »Monte Verità« (Milán, 1978), Martin Green: »The Mountain of Truth« (New England, 1986), a »Antologia di Cronaca del Monte Verità« (Locarno, 1992).
[14] Bolliger et alii: »Dada in Zürich« (Curych, 1985).
[15] Theodor Reuss: »Parsifal und das Enthüllte Grals=Geheimnis« (Schmiedeberg, 1914), 12. Hilfikerův manuskript z 9. září 1919, strana 6. Hilfiker zde mluví o »erckci a koitu« ve svatém smyslu.
[16] Schmiedeberg (prosincc 1909): 1.
[17] 20. října 1917.
[18] Elga Feldtová, Suzanne Perrottetová, Käthe Wulfová a Frau Ledererová.
[19] Vedle Hilfikera, de Laban, Bomsdorff-Bergen a jeho ~ena; Oscar Bienz, Imre Schreiber, Heinrich Friedländer, pánové Reiser a Turnibuca; Frau Beraly, Colemanová, de Montcabrie a Ruckeschellová.
[20] Ačkoliv u~ neexistují ~ádné dokumenty, které by to mohly potvrdit, zakládá se to na dopisu z curyaské opery s datem 22. června 1990.
[21] Důvod, proč Reuss odejel, je rozebírán v knize Howeho a Möllera »Merlin Peregrinus« (Königshausen, 1986), je ovaem třeba zdůraznit to, ~e oba autoři neměli přístup k informacím, na nich~ se zakládá tento článek.
[22] Mů~e Reuss, sám 97°, jmenovat jiný 97°? Podpis na této jmenovací listině se mnohem více podobá podpisu H. J. Metzgera ne~ Reus-sovu. Na této chartě je pro »`výcarsko« pou~it latinský název »Helvetia», zatímco Reuss na ostatních chartách, které ve `výcarsku vy­dal, V}DY pou~íval výraz »Elvetia«. Srovnáni podpisu se nalézá v »Materialien zum O.T.O. ».
[23] Vyjma stupňů 1-3°, 18°, 30-33°, se vaechny svobodozednářské stupně udělují per communicatio.
[24] 53) Hilfikerův archív obsahuje také lajná hesla, stisky a znamení pro IX° a X°.
[25] Initiation (říjen 1908).
[26] I.ze vidět jen na faksimilním dokumentu z roku 1918 v článku »Rosicrucian Fraternities in America« Roč. II (Quakertown: Rosicrucian Foundation, 1935), 317; zatímco »Mysteria« z ledna roku 1913 se mluví jen o 33°, 90°, 95°.
[27] K. R. H. Frick: »Licht und Finsternis« (Graz) II (1978): 478.
[28] Pozvání bylo datováno na leden 1920, strana 2.
[29] Řeč k 33°, bez udání data či místa, strana 2.
[30] Schmiedeberg 1920. http://www.parareligion.ch/dplanet/html/inri.htm.
[31] »Reuss zpochybnil Crowleyho nárok na okultní nadvládu v Americe«. Francis King: »Sexuality, Magic and Perversion« (Londýn: Neville Spearman, 1971), 143.
[32] Crowleyho deník: 6. června: »Do Curychu bych jet nemčl«, viz »The Magical Record of the Beast 666« (Londýn: Duckworth, 1972), 148 (a také 132).
[33] Heinrich Wendt Geraldu Yorkeovi, dopis z 24. listopadu 1957.
[34] Ellic Howe a Helmut Möller: »Merlin Peregrinus« (Königshausen 1986), 241, 244.
[35] V prosinci 1924.
[36] Dopis z 13. června 1936.
[37] Serge Caillet: »Franc-Maçonnerie« (Paří~: Cariscript, 1988), 110.
[38] Swinburne Clymer: »Book of Rosicruciae« III (Quakertown: Rosicrucian Foundation, 1949). xxxi a 224.
[39] Metzgerův Oriflamme (Curych) 96 (1969): 1062.
[40] Rozhovor z 12. srpna 1992 s Frau Alicí Herderovou, narozenou 1902.
[41] Dopis z 23. dubna 1988.
[42] 12. června 1951.
[43] Hilfiker v dopise G. Imhofovi ze 17. července 1951.